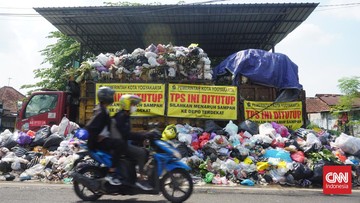 Yogyakarta, CNN Indonesia —
The Yogyakarta City Government is preparing four new locations for temporary waste storage while the Piyungan Regional Final Processing Site (TPA) is closed from 23 July to 5 September 2023.
"We have prepared four locations to temporarily handle waste for up to 40 days," said the Acting Mayor of Yogyakarta Singgih Raharjo at the Yogyakarta City Hall, Tuesday (25/7).
Singgih did not specify the four locations. He only mentioned one of them in the Reduce, Reuse, Recycle (TPS3R) Waste Management facility, Nitikan area, Umbulharjo, Yogyakarta City.
"Today one has been used, but the two will be at the end of this week or next week," he said.
On the other hand, Singgih said that his party would re-operate a number of garbage depots that had been closed while waiting for the readiness of four temporary storage locations.
Several depots that are open per day are the Utoro Loyo, Sariloyo, Ngasem, Pengok, and Tamansari Depots. People can independently bring their garbage there.
"On the condition that (organic and inorganic waste) has been sorted, if it hasn't been sorted I apologize. We'll start in an orderly manner," he said.
Singgih said that so far the Yogyakarta City Government has relied on the Piyungan Regional TPA due to limited land. Meanwhile, TPS3R in Nitikan can only accommodate 10 tons of waste.
"Right now the daily production is 210 tons," he said.
"We urge the public not to panic because we are definitely responsible for this waste. We have calculated the capacity that can be sent to one location, how much must be stored first at the depot, in the dump truck. People don't need to panic, don't throw it into the river, throw it into the depot that was opened earlier," Singgih added.
The Piyungan Regional TPA which has been collecting waste from the City of Yogyakarta, Sleman Regency, and Bantul (Kartamantul) is temporarily closed from July 23 to September 5, 2023.
This decision was based on a joint agreement between the DIY Regional Government and Kartamantul due to the fact that the existing Piyungan Regional TPA zone is very full and exceeds capacity.
Yogyakarta Special Region Governor Sri Sultan Hamengku Buwono X has prepared land with the status of sultanate land or "sultan ground" in Cangkringan District, Sleman Regency as a temporary waste disposal site.
"We provided land in Cangkringan a few days ago at a coordination meeting," said Sultan HB X at the Kepatihan Complex in Yogyakarta, Monday (24/7).
According to the Sultan, the 2 hectare land which is targeted to be used this week is devoted to waste disposal for residents of Sleman Regency and Yogyakarta City.
"It has been agreed, the administration will be later. Anyway (garbage, ed.) can enter. Don't pile up. That will be disposed of in Piyungan, while it will be moved there," he said.
(to/from)
(Gambas:Video CNN)