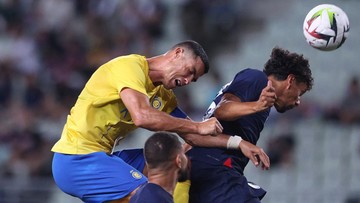 Jakarta, CNN Indonesia —
Al Nassr striker Cristiano Ronaldo commented after his team drew against Paris Saint-Germain (PSG) in a pre-season trial match in Japan, Tuesday (25/7).
Ronaldo appeared as a starter and captained Al Nassr against PSG in a pre-season trial match at Nagai Stadium, Osaka, Japan, Tuesday (25/7).
The game ended in a 0-0 draw. However, Ronaldo was satisfied with the performance of Al Nassr, who managed to hold off the strong PSG team.
"Good performance against a strong team. Pre-season preparations continue. Great reception from fans in Japan," Ronaldo wrote on Instagram, Tuesday (25/7).
In that match, Ronaldo managed to steal the attention by doing some flips that threatened the PSG goal.
The flip action in the 45th minute started with Seko Fofana who sent a cross from the left side of PSG's defense.
(Gambas:Instagram)
The ball headed right at Ronaldo, who was standing in the PSG penalty box.
CR7, who escaped from the tight guard of the PSG defender, immediately greeted the bait with a salto kick.
Unfortunately, Ronaldo's overhead kick still went off the right side of the PSG goal, escorted by Gianluigi Donnarumma.
Furthermore, Al Nassr will face Inter Milan in a pre-season trial match at the Nagai Stadium, Thursday (27/7).
(Gambas:Video CNN)
(rrr)