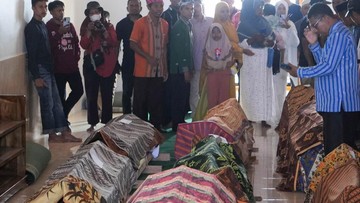 Makassar, CNN Indonesia —
The police revealed that the ferry boat that sank in Central Mawangsaka Bay, Central Buton Regency, Southeast Sulawesi, was not fit to carry passengers.
The ship carrying 48 people was also said to be overloaded.
"It's overloaded and unfit for carrying many passengers. It's not even worth it to look at with the naked eye," said Central Buton Police Chief AKBP Yanna Nurhandiana to CNNIndonesia.com, Tuesday (25/7).
Yanna said the ferry should only be used to move goods such as motorbikes.
"So the ship can only carry 10 to 11 but instead it carries a lot of residents. It is not feasible to carry passengers only goods such as motorbikes," he said.
According to Yanna, there are procedures that must be met for ships operating to transport passengers, so as to ensure the safety of the passengers.
"Only for (transporting) not that many people, there must be an SOP for passenger transport ships. It doesn't hold up and isn't feasible," he explained.
The case of the sinking of the ferry boat which resulted in the death of 15 passengers is currently being handled by the Directorate of Water and Air Police (Ditpolair) of the Southeast Sulawesi Regional Police.
"The captain of the ship has been directly handled by the North Sulawesi Regional Police this morning, examination of witnesses and evidence in the form of a ship. Two witnesses from the victim have been questioned," he concluded.
(mir/isn)
(Gambas:Video CNN)