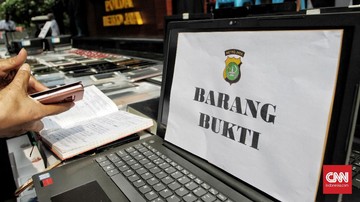 Jakarta, CNN Indonesia —
The police arrested three suspects in an online fraud case using the mode of an international network part-time job offer. As a result of this fraud, victims suffer losses of up to hundreds of millions of rupiah.
The disclosure of this case began with a report by the victim with the initials HA on June 28 to the East Jakarta Metro Police.
After carrying out investigations and investigations, the three suspects were arrested outside the Jakarta area. Each has the initials DPS (26), DPP (27) and WW (35).
"The victim, a woman with the initials HA, logged into the suspect's Instagram account and then clicked on the link on Instagram and was connected to a WhatsApp group called 'TOKPED' where the victim was given a part-time assignment with the promise of benefits," said Head of Public Relations of Polda Metro Jaya Kombes Trunoyudo Wisnu Andiko in a press conference, Tuesday (25/7).
Within that group, the suspects also asked the victim to transfer some money in order to receive the promised benefits.
Initially, the victim did receive benefits as promised by the suspect. At that time, the victim had received a profit of IDR 400 thousand.
Feeling confident, the victim continued to transfer some money to the suspect. However, the victim was eventually trapped by the fraud committed by the suspect.
"The total loss suffered by the victim was IDR 878 million," said Trunoyudo.
East Jakarta Metro Police Chief Kombes Leonardus Harapantua Simarmata revealed that in carrying out their actions the suspects formed a network by recruiting people who made passbooks and ATM accounts. Furthermore, savings books and ATMs were brought to Cambodia.
"Then the perpetrators who were in Cambodia created a website where when people opened the link created by the suspect, they automatically joined the part-time work group," he said.
Meanwhile, East Jakarta Metro Police Head of Criminal Investigation Unit AKBP Dhimas Prasetyo said that currently his party is still investigating this fraud.
"Because it is possible and there are indications that there are other suspects, including Indonesian citizens who are abroad and we are still developing it," he said.
For their actions, the suspects were charged with Article 28 paragraph (1) in conjunction with Article 45 (1) of Law Number 19 of 2016 concerning ITE and/or Article 378 of the Criminal Code with a penalty of up to five years in prison.
(dis/rds)
(Gambas:Video CNN)