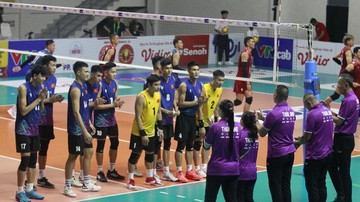 Jakarta, CNN Indonesia —
Thailand's strength in the SEA V League 2023 series 2 will change with the presence of senior and junior players.
In SEA V League 2023 series 2, Thailand will not field the same players as in series 1 last week in Sentul. The main team consisting of Anurak Phanram and friends will be sent to compete in the 2023 FIVB Challenger Cup on 26-30 July.
Because of this, the Thai Volleyball Association also summoned a number of other players who also have good experience and abilities.
One of those brought by Thailand was a veteran outside hitter named Wanchai Thapwiset. The 37-year-old athlete was the backbone of Thailand when it won gold in the 2011 and 2013 SEA Games.
There are also players who have been part of the Thai volleyball national team in previous years such as Anuchit Phakdeekaew and Jakkrit Chantrai.
Meanwhile, Thailand also includes Jakkrit Thanomnoi, a player who recently returned to defend the U-21 team at the World Championships in Bahrain. Thanomnoi's performance in the age group championship was quite good, with several times being the top scorer.
Thanomnoi also had the opportunity to face countries with famous volleyball traditions such as Poland and Brazil, and lead Thailand to eighth place at the 2023 U-21 World Championships.
The Volleyball Association of Thailand (TVA) said the 14-man team for the 2023 SEA V League had only been practicing for five days ahead of the match in the Philippines on July 28-30. In uploads on Instagram, TVA also explained that the Thai squad was still not 100 percent ready.
(Gambas:Video CNN)
(nva/ptr)