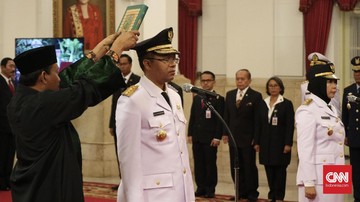 Jakarta, CNN Indonesia —
The West Nusa Tenggara (NTB) DPRD has received a number of names for governors who will be proposed to replace the regional head pair Governor Zulkieflimansyah and Deputy Governor Sitti Rohmi Djalilah whose term of office ends in September.
The acting governor who was appointed by the central government will then lead the NTB Provincial Government until the new regional head who wins the 2024 Pilkada is appointed by the President of the Republic of Indonesia.
The chairman of the NTB DPRD, Baiq Isvie Rupaed, said that so far four name suggestions had been submitted and accepted by his party. But whoever they are, Isvie doesn't want to mention them straightforwardly.
"We have only received four names," Isvie said in Mataram, NTB, Tuesday (25/7) as quoted from Antara.
It is known that the positions of NTB Governor Zulkieflimansyah and his deputy Sitti Rohmi Djalilah will end on September 19, 2023.
Isvie emphasized that his party would accept all suggestions related to the Acting Governor submitted by the community to the NTB DPRD.
"There will be no rejection. So if there are people who want to make a proposal, please submit it to the NTB DPRD," he said.
The formulation of the Acting Governor's proposal until August 9, 2023
In addition, he said the NTB DPRD had received a letter from the Ministry of Home Affairs regarding the instructions for the mechanism for selecting the Acting Governor of NTB.
"We have received a letter from the Ministry of Home Affairs (Kemendagri)," said Isvie.
He said in the letter the Ministry of Home Affairs had given the NTB DPRD a deadline to draft the names of the Acting Governor (Pj) no later than August 9, 2023.
"So on August 9, 2023 a recommendation letter must be sent to the Ministry of Home Affairs," he said.
Isvie said that currently the letter from the Ministry of Home Affairs was being reviewed by the DPRD but the regulations did not explain whether it was functional or not.
"What is clear is that there is no functional explanation for Primary Echelon I. We are currently reviewing it, because we were given authority to only three names which were then proposed to the Minister of Home Affairs," said Isvie.
According to him, so far preparations have been on track and currently his party is building communications with various parties. Especially reviewing the letter related to the Ministry of Home Affairs.
"In the regulation of the Minister of Home Affairs that he received, the criteria are stated, namely the position of middle-high leadership, and have experience. So those who meet those requirements. After all, it will be the president who determines it later," he explained.
Apart from the pair of regional heads Zulkieflimansyah and Sitti Rohmi Djalilah, there are 16 governors whose terms of office will expire in September.
This was revealed by Minister of Home Affairs Tito Karnavian during a meeting in Jakarta on May 25. The former National Police Chief said that the central government would appoint acting regional heads, governors, mayors and regents to fill the vacant positions until the 2024 Pilkada.
Tito appealed to echelon I officials who are interested in becoming acting governors to register. The same thing applies to echelon II officials who have the desire to serve as acting mayor or regent.
The names of the 17 governors whose term of office will end in September are:
1. Governor of North Sumatra Edy Rahmayadi
2. Governor of Riau Syamsuar
3. Governor of South Sumatra Herman Deru
4. Governor of Lampung Arinal Djunaidi
5. Governor of West Java Ridwan Kamil
6. Governor of Central Java Ganjar Pranowo
7. Governor of East Java Khofifah Indar Parawansa
8. Governor of Bali I Wayan Koster
9. Governor of West Nusa Tenggara (NTB) Zulkieflimansyah
10. Governor of East Nusa Tenggara (NTT) Viktor Laiskodat
11. Governor of East Kalimantan Isran Noor
12. Governor of Maluku Murad Ismail
13. Governor of Papua Lukas Enembe (inactive)
14. Governor of West Kalimantan Sutarmidji
15. Governor of South Sulawesi Andi Sudirman Sulaiman
16. Governor of Southeast Sulawesi Ali Mazi
17. Governor of North Maluku Abdul Gani Kasuba
In addition, said Tito, there are 153 regional heads at the mayor and regent level whose term of office will also end in September 2023.
Thus, the total number of regional heads whose term of office ended has reached 170 starting this September.
"This is a lot. The total is 170," he said.
(Antara/kid)
(Gambas:Video CNN)