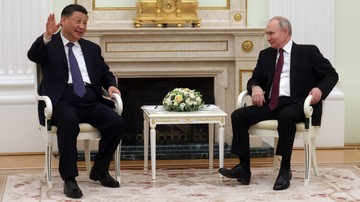 Jakarta, CNN Indonesia —
Russian President Vladimir Putin plans to visit China in October, when Moscow is still isolated from the West due to its ongoing invasion of Ukraine.
The Kremlin explained that Putin's planned visit to China was to fulfill the invitation of Chinese President Xi Jinping.
"It is understood that we have received an invitation and we intend to go to China when the Belt and Road Initiative Forum is held in October," said Yuri Ushakov, an adviser to the Russian president on international affairs.
Even so, Ushakov did not explain in more detail about Putin's visit to China. He only emphasized that Putin had accepted an invitation from Xi to visit China.
"It's still not clear (what the visit is related to). We have received an invitation," he explained.
(Gambas:Video CNN)
Chinese President Xi Jinping had indeed visited Russia in March. At that time, Xi emphasized that relations between Russia and China entered a new era.
China and Russia are themselves strategic allies, with the two often touting their "borderless" partnership and cooperation in the economic and military fields.
Relations between Moscow and Beijing have also become increasingly intimate since Russia began its invasion of Ukraine in February 2022.
At that time, China categorically refused to condemn the Russian invasion.
For your information, Putin visited China in 2022. At that time Putin was attending the opening ceremony of the Winter Olympics in Beijing.
He also attended the first two Belt and Road Forums held in China in 2017 and 2019.
(rds)
(Gambas:Video CNN)