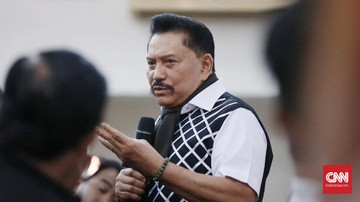 Jakarta, CNN Indonesia —
The former Head of the State Intelligence Agency (BIN) AM Hendropriyono was surprised that he was still being dragged along about the Al Zaytun Islamic Boarding School which was being widely discussed because of the controversy.
Hendropriyono emphasized that he was no longer in government ranks or off stage. However, he was still appointed to hold the pesantren.
"If I'm an old person, I'm already off stage. I'm still being pointed at holding Al Zaytun. That was 22 years ago. 22 years ago. This is already called this psychological war. This is being played around," said Hendropriyono when met after the launch of the book 'Dreams about Indonesia' in Palmerah, Jakarta, Tuesday (25/7).
On that occasion, Hendropriyono said the Al Zaytun issue was like a psychological war that led people's minds to believe in something that was not correct.
The former minister of President BJ Habibie's era also said that his dealings with Al Zaytun had been going on for a long time, but the issue of his involvement with the pesantren continued to be raised.
"(The book) Intelligence Philosophy tells about that and also conveys what is conveyed as is currently busy about Al Zaytun, sometimes people are just carried away justifying an idea that is rolled out in society. Don't forget that truth is often not the same as accuracy. If we aim at one target correctly, it is not certain that it will hit exactly," he said.
Previously, Hendropriyono denied being a figure who backed Panji Gumilang, following news of his closeness to the leadership of the Al Zaytun Islamic Boarding School.
He explained how he first met Panji Gumilang in 1999. At that time Panji asked the 3rd President BJ Habibie to inaugurate the Al-Zaytun Islamic Boarding School.
"The Indonesian president at that time, BJ Habibie, ordered the Minister of Religion to investigate the Al-Zaytun Islamic Boarding School, which requested an audience with the president, in order to inaugurate the Al-Zaytun Islamic boarding school, where I first heard of the Al-Zaytun Islamic boarding school," Hendropriyono told detik.com in the Senayan area, Central Jakarta, Monday (10/7).
At that time, Hendropriyono served as Minister of Transmigration and Forest Encroachment.
At a cabinet meeting, the Minister of Religion who was appointed by BJ Habibie to investigate Al-Zaytun, at that time explained that Al-Zaytun Islamic Boarding School had no problems political ideology.
Hendropriyono said that BJ Habibie had come to Al-Zaytun to inaugurate the Islamic boarding school. After that, Hendropriyono admitted that he never knew how Al-Zaytun would go on.
Then, during the reign of the 5th President Megawati Soekarnoputri, Hendropriyono was asked to replace Megawati attending the groundbreaking for the learning building. At that moment, Hendropriyono, who was then the head of BIN, became acquainted with Panji.
Hendropriyono saw the Al-Zaytun boarding school at that time as a fairly modern boarding school. He considered political ideology, there is no problem with the Al Zaytun Islamic Boarding School.
Furthermore, Hendropriyono found it strange to be associated with the current Al Zaytun polemic. Because he felt he had no power to support Panji Gumilang.
"What are my strengths? If I am still active, I have strength, I am afraid. I think this is because at that time I was the Head of BIN. For an intelligence officer, the enemy of the enemy is my friend and frankly the enemy of the Republic of Indonesia, the NII (Islamic State of Indonesia)," he said.
"If there are still people who want the NII to return, it's a dream. To make people realize that they are dreaming, we must also use the help of those who are already aware. Those who are still asleep, who were already aware at that time, Panji Gumilang, from an ideological and political perspective, had been declared clear by Indonesian President BJ Habibie by inaugurating there," he added.
(pop/rds)
(Gambas:Video CNN)