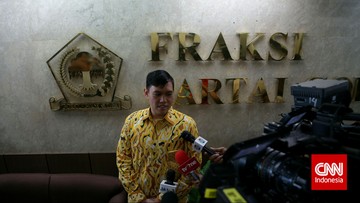 Jakarta, CNN Indonesia —
The Central Leadership Council (DPP) of the Golkar Party spoke out in response to Minister of Investment Bahlil Lahadalia who declared his readiness to become the General Chair of the Golkar Party.
Chairman of the Golkar Party's Central Leadership Council (DPP) Dave Laksono asked Bahlil to run as chairman. However, Dave emphasized that the nomination of general chairperson of his party can only go through the National Conference which will be held at the end of 2024. Golkar will not hold a National Conference.
"Please take part in the upcoming National Conference at the end of 2024. There is no National Conference," said Dave when contacted, Tuesday (25/7).
Dave was reluctant to comment further on Bahlil's current status within Golkar. Including the news that said Bahlil was no longer a cadre of the Beringin Party.
"Please study Golkar's statutes and regulations for the conditions for moving forward with the election," said the member of Commission I of the DPR.
Meanwhile, referring to the Golkar Party's bylaws, there are seven requirements to become a caketum. Some of them, such as, have served in central or provincial management; continuously active as a member of the Golkar Party for at least five years and never been a member of another political party.
Then, he attended education and training for Golkar Party cadres; never been involved in G 30 S/PKI; and willing to spend time and able to work together collectively within the Golkar Party.
Previously, Minister of Investment Bahlil Lahadalia admitted that he was summoned after his name was listed on the list of candidates for the chairman of the Golkar Party to replace Airlangga Hartarto.
He did not dismiss the opportunity to become chairman of Golkar. However, Bahlil said the process had to be carried out according to party mechanisms.
"Every cadre who feels responsible for serving the party I think is called upon, but through the party mechanism," said Bahlil at the Jakarta Presidential Palace, Tuesday (25/7).
(thr/isn)
(Gambas:Video CNN)