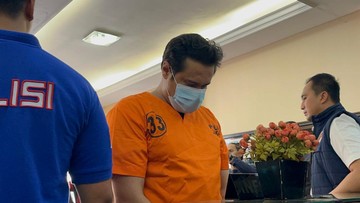 Jakarta, CNN Indonesia —
Artist Bobby Joseph apologized and promised not to repeat his actions after getting into legal trouble again.
Bobby is known to have been arrested again in connection with a drug abuse case. This time, he was arrested for using synthetic tobacco.
"I want to apologize and I promise not to repeat it again," said Bobby in a press conference, Tuesday (25/7).
"I want to express my apologies especially to my family, and also to the people out there," he continued.
On that occasion, Bobby also appealed to the whole community to never try these illicit goods.
"I urge other friends, both those I know and those I don't know, to stay away from drugs. Don't ever touch them because it's very, you could say it's very difficult to get out of here," he said.
Bobby currently has the status of a suspect and is under arrest. He was charged with Article 112 paragraph 1 subsidiary Article 127 paragraph 1 letter a Law Number 35 of 2009 concerning Narcotics.
The police said Bobby ordered or bought synthetic tobacco-type drugs through Instagram social media. Noted, Bobby has ordered it 10 times.
The results of the examination also revealed that Bobby had been consuming synthetic tobacco since 2020 on the grounds that he had family problems.
"The item was obtained from an Instagram account on social media," said South Jakarta Metro Police Head of Narcotics Unit Kompol Achmad Ardhy in a press conference, Tuesday (25/7).
(dis/isn)
(Gambas:Video CNN)