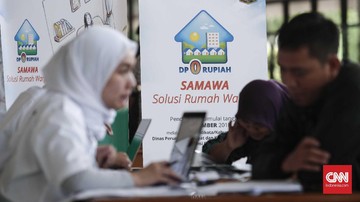 Jakarta, CNN Indonesia —
The DKI Jakarta People's Housing and Settlement Area Agency (DPRKP) stated that they cannot sanction the owner of a Zero Rupiah DP house in Menara Samawa, East Jakarta, who wants to rent out his unit.
This was known from the clarification process carried out on the husband of the owner of the residence on Friday (23/6).
"Brother Herlan, as the husband of the PM (beneficiary) admits that he was wrong because he had marketed his residential unit to be used as a rental/boarding house which was uploaded on June 16, 2023," said Acting Head of the DKI Jakarta People's Housing and Settlement Office, Retno Sulistyaningrum, when contacted on Friday. .
From the clarification process, it is known that the residence has not been occupied continuously since September 2021 due to the birth of the family's first son.
"So he returned to his parents' house in Cipulir. During his stay at his parents' house, PM occasionally stayed at the Menara Samawa residence and continued to make credit and IPL installment payments," said Retno.
Then since March 2023, the owner of the residence gave birth to a second son. Meanwhile, the husband was laid off, which affected the family's income.
On the other hand, income is subject to auto debit mortgage installments every month
Under these conditions, the residential owner intends to terminate the mortgage and has sought procedural information from the bank.
"Due to the increasing need for living expenses, the person concerned intends to contract out the residential unit to another party who is marketed through social media in order to seek additional income for the family," said Retno.
Retno said that her party also conveyed the consequences of terminating the FPPR KPR if it was submitted before the tenor period ended.
Residential owners understand and are aware of these consequences, but because they are unable to pay mortgage repayments, residential owners will immediately submit a written application for KPR Termination of FPPR for housing.
"Thus, the DPRKP cannot impose administrative sanctions on the PM because the person concerned is no longer able to return to occupy his residence," said Retno.
"The DPRKP will wait for a copy of the letter from the person concerned for further coordination with Bank DKI and Perumda Sarana Jaya as the developer who will process the buyback guarantee for the residence," he added.
The video of the zero rupiah down payment house was previously viral on social media. In the video, the rental price offered is IDR 1 million a month.
The rental price at the Samawa Pondok Kelapa Tower, Duren Sawit, East Jakarta, includes several facilities and is free of management fees (IPL).
"Cheap boarding houses in East Jakarta, the bathroom is inside, there is already a refrigerator, and also a kitchen set, the kitchen set uses a cooktop," said the voice in the video.
(yoa/isn)
(Gambas:Video CNN)