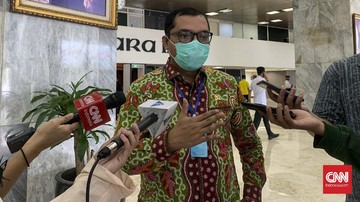 Jakarta, CNN Indonesia —
The chairman of the United Development Party (PPP) DPP Achmad Baidowi alias Awiek said the United Indonesia Coalition (KIB) would disband if the National Mandate Party (PAN) and the Golkar Party did not nominate Ganjar Pranowo as the 2024 presidential candidate.
"Formally, KIB has not disbanded. But as we said, if it turns out that the presidential candidate is not Ganjar, then KIB will automatically end well," Awiek told CNNIndonesia.com, Friday (26/5).
He said that coalition changes are very common in the run-up to the 2024 Presidential Election. According to him, political parties have their respective rights and authorities in determining support.
Regarding the future direction of KIB, Awiek admitted that there had been no further discussions, either with PAN or Golkar. He stressed that PPP would still submit and respect the choices of each party.
"So far there have been no further discussions with Golkar and PAN. Let them also proceed internally, we respect that," he said.
Previously, Chairman of the PDIP Election Winning Body (Bappilu) Bambang Wuryanto alias Bambang Pacul claimed that PPP had become his party's partner in the 2024 political contest. He also emphasized that PDIP did not use the word coalition, but cooperation.
Pacul said that the cooperation between PDIP and PPP was formed after PPP participated in declaring Ganjar Pranowo as the 2024 presidential candidate.
He also claimed that PPP had left the Golkar Party and PAN in KIB.
The issue of KIB cracking also arose from Golkar. PKB chairman Muhaimin Iskandar alias Cak Imin said there were plans to form a new coalition to welcome the political contestation in the upcoming 2024 presidential election. The new coalition is planned to consist of PKB, Gerindra and Golkar.
Cak Imin also expressed his belief that Golkar would not join the PDI-P and support Ganjar.
But on the other hand, PAN Deputy Chairperson Viva Yoga Mauladi wants Golkar and PPP to remain united in KIB.
(fby/asr)