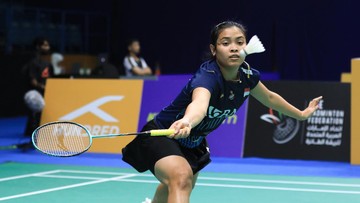 Jakarta, CNN Indonesia —
Three representatives from Indonesia have made it through to the semifinals of the Malaysia Masters 2023. The following is the schedule for the live broadcast of the match.
The Malaysia Masters 2023 semifinals will take place at the Axiata Arena, Kuala Lumpur, Saturday (27/5), starting at 12.00 WIB.
As many as three Indonesian representatives will play on field one. The Malaysia Masters 2023 semifinals will be broadcast live on INews television station and live streaming on RCTI Plus.
Indonesia's steps in the semifinals will begin with the struggle of Gregoria Mariska Tunjung who will face India's women's singles Pusarla V Sindhu in the third match.
Gregoria Mariska appeared convincing by defeating China's Wang Zhi Yi. Gregoria's confidence resulted in a sweet victory 21-11, 21-14.
Indonesia also sent a representative in the men's singles sector after Christian Adinata won over India's Srikanth Kidambi in a rubber game battle.
After trailing 16-21 in the first game, Christian Adinata was able to reverse the situation by picking up the remaining two games with a score of 21-16 21-11.
Next, Christian Adinata will face Prannoy HS in the fourth match.
Then Leo Rolly Carnando/Daniel Marthin had to face the host's men's doubles, Man Wei Chong/Kai Wun Tee, in the last or eighth match.
Previously, Leo/Daniel successfully eliminated the other host doubles, Aaron Chia/Soh Wooi Yik in two straight games with a score of 21-18 21-19.
Malaysia Masters 2023 Semifinal Live Schedule:
12.00 WIB // Axiata Arena, Kuala Lumpur // Live on iNews and via RCTI+ live streaming.
3 Representatives of Indonesia in the Semifinals of the 2023 Malaysia Masters
Gregoria Mariska Tunjung vs Pusarla V Sindhu (India) / Game 3
Christian Adinata vs Prannoy HS (India) / Game 4
Leo Rolly Carnando/Daniel Marthin vs Man Wei Chong/Kai Wun Tee (Malaysia) / Game 8
(Gambas:Video CNN)
(jun/har)