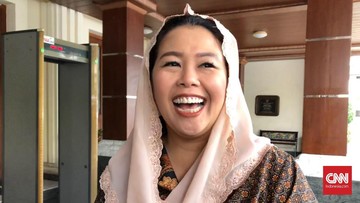 Jakarta, CNN Indonesia —
PBNU Strategic Innovation Development Agency chairman Yenny Wahid is pessimistic that Prabowo Subianto will choose PKB chairman Muhaimin Iskandar alias Cak Imin as his vice presidential candidate in the 2024 presidential election.
This was conveyed by Yenny when asked about Cak Imin's chances of becoming Prabowo's running mate.
"It's a bit hard, just Gus Dur to be left behind, let alone the people later," said Yenny when met at the BNI Tower, Central Jakarta, Friday (26/5).
When asked again about this opportunity, Yenny laughed and said that Prabowo must have made his own electoral calculations regarding his victory in the 2024 presidential election.
"Pak Prabowo already has his own political calculations about that," he said.
On the other hand, Yenny emphasized that NU as an institution would not be involved in practical politics. However, according to him, there is no prohibition for NU cadres to fight in the political arena.
He also said that NU has a myriad of great cadres who are qualified to appear in the 2024 presidential election. He mentioned a number of names such as Nasaruddin Umar, Mahfud MD, to Khofifah Indar Parawansa.
"So, whoever one of them is being eyed as the vice presidential candidate, for us it is certainly a sign that NU is indeed a political force to be reckoned with," he said.
Meanwhile, PKB Chairman Muhaimin Iskandar alias Cak Imin is increasingly confident of fighting in the 2024 elections, both as a presidential candidate (candidate) and a vice-presidential candidate (cawapres). He said he had received orders from the Nahdlatul Ulama (NU) kiai.
This was revealed during a meeting with thousands of NU cadres in Makassar, South Sulawesi.
"Yes, God willing, I have been ordered by the clerics, the PKB, to run for president or vice presidential candidate," said Cak Imin, Saturday (20/5).
In the near future, said Cak Imin, PKB and the Gerindra Party will announce Prabowo Subianto's vice presidential candidate.
"Until now, we are solid with Gerindra, just waiting for the right time. Well, I will still be vice presidential candidate," he said.
In 2008, the internal PKB was in turmoil. The conflict occurred between Gus Dur and Cak Imin.
During the conflict, Yenny once said that Cak Imin was the figure who expelled Gus Dur from the PKB which he did through the PKB Extraordinary Congress in Ancol, Jakarta in 2008.
Yenny said that it was not only Gus Dur who was kicked out by Cak Imin. However, a number of senior PKB figures including himself. According to Yenny, Cak Imin also brought out figures who had accompanied Cak Imin's journey at PKB.
(mnf/isn)
(Gambas:Video CNN)