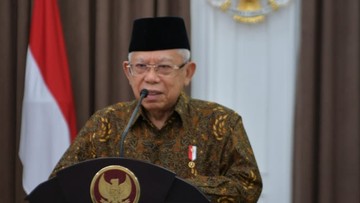 Jakarta, CNN Indonesia —
Vice President Ma'ruf Amin assessed that the development of the Islamic economy in Indonesia was going very well. This is reflected in the share of sharia business activities which grows higher at the end of 2022 compared to the previous year.
According to him, this good development is mainly seen in terms of an inclusive and universal concept to create a just economy and balanced growth.
"Sharia business activity share in 2022 will reach 45.66 percent of the national economy, an increase of 3.45 percent from 2021," Ma'ruf said at the KNEKS event at the BSI Building, Friday (26/5).
However, this certainly does not make Indonesia complacent. The reason is, there is still much to be done to become the center of the world's halal economy. One of them is encouraging the MSME halal industry.
Therefore, strengthening MSMEs is currently one of the government's priorities. The synergy and collaboration in the development of halal MSMEs is directed at strengthening business capacity and expanding access to integrated sharia financing.
As of December 2022, sharia financing disbursed reached IDR 149.55 trillion, including for the MSME industry.
The funds are channeled through various government programs such as KUR, Ultra Micro, and LPDB, as well as from the sharia commercial finance sector and the sharia social finance sector.
Not only that, the role of Islamic social finance for the economic equality of the people is also increasing. Its distribution, among others, is directed at supporting poverty alleviation, supporting food security, and various other programs within the framework of a more productive management of zakat and waqf.
"These various achievements at least show how the Islamic economy and finance have contributed significantly to the movement of development that prioritizes the principles of inclusiveness, sustainability, as well as the principles of equity and justice," he concluded.
(Gambas:Video CNN)
(ldy/sfr)