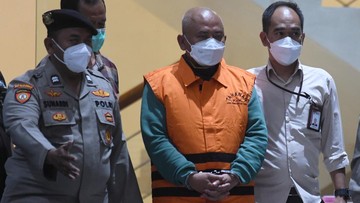 Jakarta, CNN Indonesia —
The Supreme Court (MA) rejected the cassation of former Bekasi Mayor Rahmat Effendi alias Pepen. Pepen was still sentenced to 12 years in prison, but the deprivation of political rights fell to three years from five years previously.
"REJECT the cassation of the defendant and PU. Improvements regarding: 1. BB CF PN 2. Additional punishment in the form of revocation of political rights for three years from the time the convict has completed serving the main sentence P1 = DO regarding UP," said the decision as quoted from the MA website, Friday (26) /5).
The decision on case number: 1899 K/Pid.Sus/2023 was decided by the Chairman of the Cassation Council Soesilo with the member judges Sinintha Yuliansih Sibarani and Jupriyadi on Wednesday, May 24 2023. Registrar replaced Yoga Dwi Ariastomo Nugroho.
Previously, the KPK and Pepen had both filed an appeal in response to the Bandung High Court (PT) verdict.
Head of KPK Reporting Section, Ali Fikri, explained that the legal action was filed because PT Bandung had not fully considered charging Pepen the IDR 17 billion in replacement money. However, the Supreme Court also rejected the KPK's cassation.
PT Bandung sentenced Pepen to 12 years in prison and a fine of IDR 1 billion, a subsidiary of six months in prison. The panel of judges at the appeal level also revoked Pepen's political rights for five years.
The sentence was heavier than the sentence given by the Corruption Court (Tipikor) at the Bandung District Court. At that time, Pepen was sentenced to 10 years in prison, a fine of IDR 1 billion, a subsidiary of six months in prison, plus the revocation of five years of political rights.
(ryn/isn)
(Gambas:Video CNN)