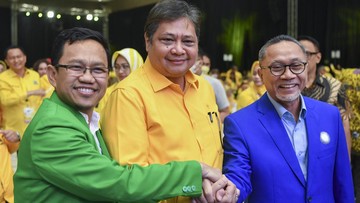 Jakarta, CNN Indonesia —
PPP Deputy Chairperson Arsul Sani admitted that he had predicted that the political parties in the United Indonesia Coalition (KIB) would have different attitudes regarding the presidential and vice-presidential candidates that were nominated in the 2024 presidential election. According to him, the other two KIB political parties, namely PAN and Golkar, were aware of this.
"When the KIB was formed, each of us already had an awareness of the possibility, in the end it was different in relation to the presidential election candidates," said Arsul at the parliament complex, Senayan, Friday (26/5).
Arsul explained that from the start the Golkar Party had appointed Golkar chairman Airlangga Hartarto as their presidential candidate. Meanwhile, PAN in its journey admits that it has a tendency to support Prabowo Subianto as a presidential candidate and Erick Thohir as a vice presidential candidate.
PPP has also declared Ganjar Pranowo as a presidential candidate and included Sandiaga Uno in the vice presidential candidate exchange.
"Recently PPP too, Pak Sandi, isn't that so," he said.
However, he dismissed the issue that said KIB had disbanded. According to Arsul, the coalition of political parties ahead of the 2024 elections is still liquid.
"Because we don't know yet, lest Golkar and PAN will be in the same coalition, for example carrying Pak Ganjar," he said.
Apart from KIB which consists of PPP, Golkar, and PAN, the coalition that has currently been formed is the Indonesian Awakening Coalition (KKIR). The coalition consists of Gerindra and PKB, but they have yet to announce their presidential and vice presidential candidates.
Then, there is the Change Coalition consisting of Democrats, NasDem, and PKS. They carried Anies Baswedan.
Meanwhile, PDI-P has not yet decided with whom to form a coalition. However, they have announced Ganjar Pranowo as a presidential candidate.
(mnf/tsa)
(Gambas:Video CNN)