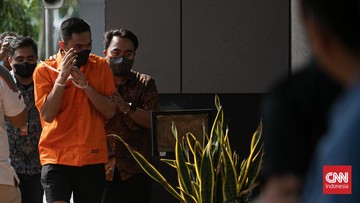 Jakarta, CNN Indonesia —
Polda Metro Jaya provides clarification on the viral video showing the suspect in the persecution of Cristalino David Ozora, Mario Dandy Satriyo being able to remove and attach cable ties to tie his own hands.
Through the clarification submitted by the Head of Public Relations of Polda Metro Jaya Kombes Pol. Trunoyudo Wisnu Andiko on Friday (26/5) evening, they stated that the video did not depict the actual situation.
According to him, the video actually depicts two different events and has been edited and combined into one frame with text and sound effects.
"The incident is in fact still taking place in the Polda Metro Jaya Detention Center area, under the supervision of investigators and the Directorate of Detention and evidence at the time of administering the administration of the suspect's handover to investigators," he said.
"But in the video MDS (Mario Dandy Satrio) suddenly used cable ties when he realized there was a camera," he added.
He said the real facts of the incident were; After the administrative process of handing over to investigators was completed, his team immediately put Mario Dandy in an orange prison suit and attached cable ties to him.
"Furthermore, investigators brought the suspect out of Polda Metro Jaya Detention Center to the Bid Dokkes Building for medical tests before the second stage of handing over to the South Jakarta Prosecutor's Office," he said.
Mario Dandy Satriyo was caught on camera being able to remove and attach cable ties to tie his own hands. In the recording, Mario can be seen taking the cable ties that are on the table.
Then, Mario put his hands into the cable ties and tightened them.
Furthermore, in the video, Mario conveys his regret and apology for the legal case that ensnared him while smiling.
David's family representative, Alto Luger, admitted that he was not surprised by what Mario had done. He said Mario did receive special treatment even though he was already a suspect in abuse and was detained by the police.
According to him, the video has further strengthened the family's reason for losing trust in law enforcement officials.
"The family is surprised, but not surprised by the special behavior that this suspect of serious abuse has received. Like the open letter I wrote three days ago, we once trusted law enforcement officials, this video is proof that the loss of trust in law enforcement officials is very justified. " said Alto when confirmed, Friday (26/5).
Alto considered that what was seen in the video not only showed that Mario had no regrets for what he had done, but also showed arrogance. He believes Mario still feels that his family can buy justice.
(Tuesday/Sunday)
(Gambas:Video CNN)