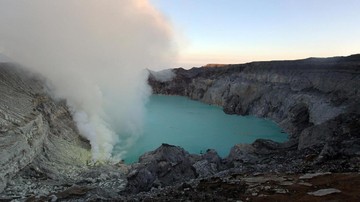 Jakarta, CNN Indonesia —
In the annual meeting in Paris, France, Wednesday (24/5), the Ijen Geopark in East Java was officially designated as part of the UNESCO Global Geoparks (UGG).
Currently, this means that there are 10 geoparks in Indonesia that are included in the list of UNESCO Global Geoparks. In total, around the world there are as many as 195 UNESCO Global Geoparks originating from 48 countries.
Until it is designated as UNESCO Global Geoparks, what exactly is stored in the Ijen Geopark? Ijen Geopark itself is located in two regions, namely in Banyuwangi and Bondowoso Regencies in East Java Province.
The strategic location of the geopark between the strait and the sea makes it a migration crossroads. Ijen is one of the most active volcanoes in the Ijen caldera system. About 22 post-caldera volcanic cones have formed both within the caldera and on its periphery.
Ijen is the most acidic crater lake on Earth and the largest of its kind. Thanks to a rare phenomenon, high concentrations of sulfur rise from the active crater before burning up when it encounters an oxygen-rich atmosphere.
As gas from the active crater burns, it forms a unique electric blue flame visible only at night. The water itself is acidic because it is recycled by seeping beneath the volcanic surface.
As reported by the UNESCO website, Ijen UNESCO Global Geopark offers natural wonders and is famous for its volcanic landscapes, unique geological formations, and cultural heritage.
(Gambas:Instagram)
The Ijen Geopark includes Mount Ijen, a stratovolcano with a turquoise crater lake known as Kawah Ijen, which is the most acidic lake in the world, as well as the Belambangan Biosphere Reserve, which was designated by UNESCO in 2016.
Ijen Geopark Daily Manager (PHIG) Banyuwangi, Abdillah Baraas said, at the last assessment stage Ijen Geopark managed to get a high score, namely a score of 872. There were at least 21 geological sites developed by the Ijen Geopark team. From local scale to international scale.
(wow)
(Gambas:Video CNN)