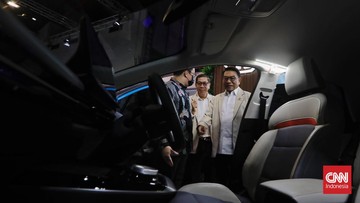 Jakarta, CNN Indonesia —
The Institute for Development of Economics and Finance (Indef) explained based on their research results that groups of netizens who reject and criticize electric vehicle subsidies consider that there are business interests of state officials.
According to Data Analyst Continuum Indef Wahyu Tri Utomo, netizens highlighted two state officials, Chief of Presidential Staff (KSP) Moeldoko and Coordinating Minister for Maritime Affairs and Investment (Menko Marves) Luhut Binsar Panjaitan.
"There are also those who think that this subsidy will only 'bank' officials who are also entrepreneurs. Moeldoko is KSP and Chair of Periklindo, Luhut is the Coordinating Minister for Maritime Affairs and is related to Electrum," he said in a webinar broadcast on YouTube, Monday (22/5) .
Moeldoko is the Chairman of the Indonesian Electric Vehicle Industry Association. This organization was formed to support Presidential Regulation Number 55 of 2019 concerning accelerating the battery-based electric vehicle program.
Periklindo members include Wuling, DFSK, Benelli, Keeway, ABC Lithium, Smoot, AEON Credit Service and Mobil Anak Bangsa (MAB). Moeldoko himself is the owner of MAB, an electric bus manufacturer.
Meanwhile, Luhut is associated with electric motorcycle company Electrum. Electrum CEO Pandu Sjahrir is Luhut's nephew.
Wahyu said the public was worried that this subsidy policy would create a conflict of interest from state officials who are also involved in the electric vehicle industry.
"Implicitly there is a fear of conflict of interest between those who hold positions in government, have power over policy, but on the one hand have businesses that coincidentally intersect with policy," said Wahyu.
"This has finally raised suspicion from the public, lest this subsidy is for 'pengpeng', not for people in need," he explained.
The community group that rejected this subsidy was 80.77 percent netted from 18,921 conversations originating from 15,139 Twitter accounts during the period May 8-12 2023.
Apart from the problem of conflict of interest, netizens who reject subsidies also think that this policy is not on target. The reason for electric car buyers is that people don't need subsidies.
The community is also said to have questioned those who benefit from this policy, they suspect that only automotive manufacturers will benefit.
Comments from the Moeldoko and Luhut camps
KSP Main Expert Andrianto Gani denied the allegation that electric vehicle subsidies are loans. He underlined that what the government is giving is incentives, not subsidies.
The provision of incentives is said to not use government funds at all but in the form of Value Added Tax (VAT) deductions from 11 percent to 1 percent.
"When it comes to bank loans, I'm also confused about which ones to pay for, because there aren't any funds coming out for electric car incentives," explained Gani.
Meanwhile, Luhut's spokesperson, Jodi Mahardi, said that his boss and Electrum had no ownership connection.
"I want to emphasize that Pak Luhut has no ownership ties with Electrum. This policy was taken based on considerations to advance the electric vehicle industry in Indonesia, not for the personal benefit of a person or group of people," said Jodi when contacted, Tuesday (23/5).
(fea)
(Gambas:Video CNN)