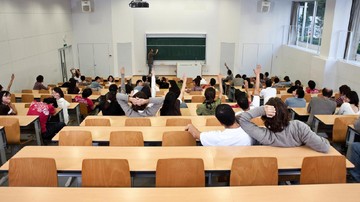 Jakarta, CNN Indonesia —
The Ministry of Education, Culture, Research and Technology (Kemendikbudristek) revoked the operational permits of 23 tertiary institutions spread across various provinces as of May 25 2023. These dozens of tertiary institutions were called problematic.
"There were 23 tertiary institutions whose operational permits were revoked. Because the data keeps moving," Director of Institutional Directorate General of Higher Education, Research and Technology (Diktiristek) Kemendikbudristek Lukman told CNNIndonesia.com, Friday (26/5).
He said that as of Thursday (25/5), the Ministry of Education and Culture had received 52 public complaints which were followed up by giving mild, moderate, severe sanctions, up to the revocation of operational permits. The imposition of this sanction is based on the provisions of the Minister of Education and Culture Regulation Number 7 of 2020.
Lukman revealed that the revocation of the operational permit was carried out because the tertiary institution did not meet the provisions of higher education standards, carried out fictitious learning, and practiced the practice of buying and selling diplomas.
In addition, there were irregularities in the awarding of the Indonesia Smart College Card (KIP-K) scholarship, as well as disputes with the organizing body so that learning was not conducive.
"In principle, the government wants to protect the public from being trapped in fake universities. Instead of having problems, we should just close them," he said.
He explained that the stages of imposing sanctions were carried out in stages. Light sanctions are found in Higher Education Service Institutions (LLDIKTI), while medium and heavy sanctions are found in the Director General of Higher Education involving the EKPT (Higher Education Performance Evaluation) team.
The EKPT team consists of various elements such as institutions, law, student learning, resources, and the Higher Education Database so that decisions are made based on facts and validated data.
Lukman said that by the end of March 2023 there were 4,231 tertiary institutions in Indonesia with 29,324 study programs. There are more than 9 million students and 330 thousand lecturers spread from Aceh to Papua.
He said the UPT Kemendikbudristek would assist affected students, lecturers and teaching staff to be transferred to other tertiary institutions. However, on condition that you submit original proof of learning.
"Students, lecturers and teaching staff who have been affected by the revocation of operational permits will be assisted by the UPT Kemendikbudristek, namely LLDIKTI, as long as there is evidence of authentic learning," he said.
(lna/tsa)
(Gambas:Video CNN)