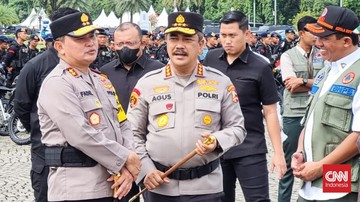 Jakarta, CNN Indonesia —
Kabareskrim Polri Komjen Agus Andrianto ordered all levels of the Directorate of Drug Crime to map the flow of drug trafficking funds for political activities in the 2024 election.
This was conveyed by Agus in his remarks at the opening of the Technical Work Meeting for the Directorate of Drug Crime which was held in Bali on Wednesday (24/5) and Thursday (25/5).
"I ask all levels of the National Police's Drug Investigation Unit to start mapping and anticipating problems related to drugs that could hinder the election event," said Agus in a statement distributed, Friday (26/5).
Agus said the involvement of politicians in drug networks is one of the problems ahead of the 2024 elections.
According to him, it is not impossible for politicians who are involved in drug trafficking to use these funds to support their political activities.
"The involvement of politicians in drug abuse clearly violates ethics and norms. It is even possible that there is drug trafficking that involves politicians using their profits to support political activities," he said.
Therefore, Agus ordered all of his staff to investigate the potential flow of drug trafficking funds for political activities in the 2024 election.
"Anticipate the use of sources of funds from drug trafficking for election activities and carry out law enforcement in a professional, just and with integrity," he said.
"Increase good relations and cooperation among stakeholders related to elections, through communication, coordination and collaboration in realizing conducive elections," said Agus.
Previously, a number of politicians in the area were arrested following their involvement in cases of illicit narcotics in recent months.
Mukmin Mulyadi, a politician from the National Awakening Party (PKB) as well as a member of the Tanjung Balai DPRD, was officially arrested by the North Sumatra Police for allegedly being involved in a drug case in the sale of 2,000 ecstasy pills.
Most recently, the former chairman of the Gorontalo City DPRD with the initials RT was arrested and detained by the police in a case of suspected drug abuse with two of his colleagues.
(tfq/from)
(Gambas:Video CNN)