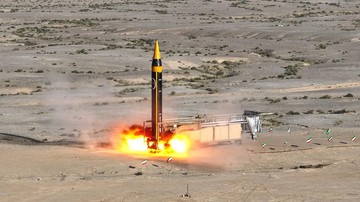 Jakarta, CNN Indonesia —
Iran tested its newest missile, the Kheibar, which has a range of 2,000 kilometers and is claimed to be able to reach Israeli territory. The United States was immediately ketar-ketir.
Iran's Defense Minister, Mohammad-Reza Ashtiani, said the test was successfully carried out on Thursday (25/5).
According to him, this missile was released to provide support to its allies and against the domination of other countries.
"Our message to Iran's enemies is that we will defend our country and its achievements," Ashtiani said, as quoted by The Times of Israel.
He then said, "Our message to our friends is that we want to help regional stability."
Iran's Defense Ministry says Kheibar can reach up to 2,000 kilometers, which means it can reach Israeli areas. The missile, they continued, was also capable of carrying weapons weighing more than one ton.
This missile launch came a few days after the Chief of Staff of the Israeli Armed Forces, Herzi Halevi, warned of the possibility of his country's war with Iran because of its nuclear program.
This missile also appeared after the nuclear deal talks between Western countries and Iran reached a stalemate. The US is now considered ketar-ketir.
US State Department spokesman Matthew Miller said Iran's missile program posed a serious threat.
"Iran's development and proliferation of ballistic missiles represents a serious threat to regional and international security, and remains a significant non-proliferation challenge," Miller said.
(Gambas:Video CNN)
Miller also touched on Iran's nuclear program, especially as Tehran has been steadily increasing its uranium enrichment.
According to some reports, Iran's uranium enrichment is up to 80 percent, close to the limit for producing nuclear weapons, which is 90 percent. However, based on Tehran's statement, their uranium enrichment is only about 64 percent.
Iran's sworn enemy, Israel, thinks that if Tehran's uranium enrichment reaches 90 percent, the situation will be chaotic and will become an alarm for the international community.
"Iran with a nuclear weapon is likely to act more provocatively, and that's why we are so committed to preventing Iran from getting a nuclear weapon," Miller said again.
(isa/has)