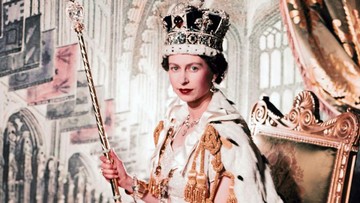 Jakarta, CNN Indonesia —
The FBI says Queen Elizabeth II faced death threats 40 years ago; ahead of his trip to the United States.
The threat was contained in the latest document released by the FBI on Tuesday (22/5) and then in a cache containing 103 pages posted to the agency's online records site, The Vault.
The file reveals several things. First, preparations for the late Queen's trip to the US, including an official tour of the West Coast with her husband, Prince Philip in 1983.
Second, documents detailing all activities were collected about a month before the visit from the San Francisco police. The document contained a record of a phone call from a man who claimed his daughter had been killed in Northern Ireland with a rubber bullet.
"This man also claimed that he would try to harm Queen Elizabeth and would drop objects from the Golden Gate Bridge onto the Royal Yacht Britannia carrying the Queen's entourage when sailing under it, or would try to kill Queen Elizabeth when she was visiting Yosemite National Park." said the document as quoted from CNN.com, Friday (26/5).
The same document also notes there was an intention by the Secret Service to close the walkways on the Golden Gate Bridge as the Queen's cruise ship approached.
Unfortunately, the document does not mention any precautions or rescue measures that have been taken to address the problem. Neither do the files reveal whether any arrests were made.
The files simply describe the FBI's alertness to possible threats to the visiting British king, collaboration with the US Secret Service and concerns about the Irish Republican Army (IRA) and its sympathizers during royal visits.
The alarm was raised because in 1979, the Queen's cousin, Louis Mountbatten was killed by the IRA using a bomb planted in his fishing boat.
As well as the Queen's cousin, three people died in the killing, including two children. After that incident, the FBI has been closely monitoring the preparations for and securing the Queen's visit.
The care was taken before the Queen's personal visit to Kentucky in 1989. One document notes that although the FBI was not aware of any specific threats to the Queen, they prepared extra security.
"Because of the ever-present threat to the British monarchy from the Irish Republican Army (IRA)," the document said.
(cnn.com/agt)