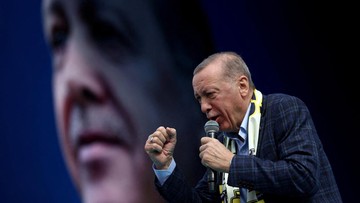 Jakarta, CNN Indonesia —
Turkey's incumbent President, Recep Tayyip Erdogan, has openly linked his arch-rival in elections, Kemal Kilicdaroglu, with terrorists.
Erdoğan said that if the leader of the Republican People's Party (CHP) wins, then in fact the terrorist organizations in Turkey will also win.
"If Kilicdaroglu wins here, the terrorist organization will win. That's for sure," Erdogan said during an interview with CNN Turk, Thursday (25/5).
"London loan sharks (too) will win. He said it, not me."
Kilicdaroglu has long been accused by Erdogan of being a pro-terrorist organization, even pro-LGBT. Erdoğan made these accusations when he was campaigning for votes in this predominantly Islamic country.
According to Erdogan, Kilicdaroglu received support from the Kurdistan Workers' Party (PKK). The PKK is a party that Turkey, the United States and the European Union consider a terrorist organization.
Erdogan is even said to have shown an edited video showing Kilicdaroglu being supported by the Kurds. The incumbent was also accused of deliberately making the video to bring down the opposition.
However, Turkish presidential spokesman Ibrahim Kalin denied that Erdogan's party made the video.
(Gambas:Video CNN)
"We didn't record this. This support lasted for months," Kalin said.
"The question that must be asked is whether the PKK cadres issued a statement or not," he said as quoted by Turkic World.
Erdogan's relationship with Kilicdaroglu is indeed quite complicated after the two of them competed for the presidency.
Kilicdaroglu has repeatedly said he is tired of being slandered by Erdogan. Meanwhile, Erdogan constantly accuses his opposition of "deviating" from Turkey's conservative values.
While talking to CNN Turk, Erdogan also called Kilicdaroglu a "liar". He called Kilicdaroglu's statement about 10 million Syrian refugees in Turkey a complete lie.
"This person is a liar. This person is a circus performer," said Erdogan.
"Currently, there are 3.38 million Syrian refugees in Turkey. But as far as this is concerned, he (Kilicdaroglu) said, '10 million have come and another 10 million will come'. Why are you lying like that?" he continued.
Kilicdaroglu did say that Erdogan "deliberately brought more than 10 million refugees" to Turkey during a talk on May 18.
He also stated that he would expel all the refugees if he won the second round.
"I am announcing here that as soon as I come to power, I will repatriate all refugees. Period," Kilicdaroglu said, as quoted by Al Jazeera.
(blq/dna)
(Gambas:Video CNN)