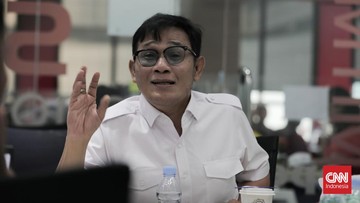 Jakarta, CNN Indonesia —
Democratic Party DPP Bappilu Deputy Kamhar Lakumani responded to the statement by PDIP politician Budiman Sudjatmiko who named Anies Baswedan as a conservative presidential candidate.
Kamhar believes that Budiman has conveyed this to Anies at the wrong address. According to him, the validity of the statement needs to be tested again.
"Budiman Sudjatmiko's categorization of leadership models is not relevant contextually. It is only suitable for discussion material and must be tested again to become a valid concept at the idea level," Kamhar told CNNIndonesia.com, Friday (26/5) .
Kamhar then compared President Jokowi's leadership style with Anies while serving as Governor of DKI Jakarta.
He claimed that during his leadership many of Jokowi's campaign promises were not realized
"A leadership model like Jokowi's is no longer relevant to continue going forward. A leadership model that is only good at making promises but incapable of fulfilling them," he said.
Apart from that, Kamhar also sees Jokowi as a figure who often ignores the aspirations and discourses that surface in the public sphere.
"Such as the transfer of the IKN, the Ciptaker Law and so on. Including having a big contribution to the deterioration of our constitutional system and the decline of democracy," said Kamhar.
On the other hand, he considered that all statements addressed to Jokowi were inversely proportional to Anies. He claimed that as long as Anies is Governor of DKI Jakarta, he can fulfill all of his campaign promises.
"This is 180 degrees opposite to Anies. All promises made during the DKI Pilgub were fulfilled and paid off. Jakarta is advancing to become a world-class city," he said.
Even so, Kamhar did not explain further what the evidence was for his claim against Anies.
PDIP politician Budiman Sudjatmiko previously assessed that Indonesia needed a progressive, technocratic leader and not like President Joko Widodo who had progressive but populist ideas.
If there is no candidate for this type of leader, Budiman is worried that Indonesia will be led by a leader with a populist conservative type, one of which is Anies Baswedan in the 2024 presidential election.
"Anies for me represents conservative populism with religious nuances. Pak Prabowo is conservative with populism with nationalist nuances. This is the challenge," said Budiman in a discussion organized by Para Syndicate, Thursday (25/5).
(nfl/ain)
(Gambas:Video CNN)