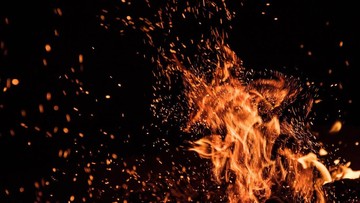 Jakarta, CNN Indonesia —
The Riau Police said the cause of the explosion and fire that occurred at the Dumai Pertamina Refinery Unit II Refinery was temporarily suspected to be due to a technical error in one of the pump units.
Riau Police Chief Inspector General Muhammad Iqbal said that based on the results of the Regulatory Incident (TKP) results on Sunday (2/3), the explosion was suspected to have been caused by the release of H2 in the Suction Discharge Area pipe area which caused flash and burning of the Hydro Cracker Unit (HCU).
"Currently a shutdown and recovery plan is being carried out for the Hydro Cracker Unit which caught fire in the Pertamina KPI RU II Dumai refinery area," Iqbal said when confirmed, Monday (3/4).
Iqbal explained that currently the police are still investigating the explosion that left nine people injured. The Riau Police, he said, were also assisted by the Central Forensic Laboratory (Puslabfor) team from the National Police Headquarters to investigate the incident.
"Meanwhile, it is suspected that there were some technical errors. So we don't know. Later, we from the Riau Police are conducting an in-depth investigation," he said.
Furthermore, Iqbal explained that the explosion that occurred was large enough to damage the walls, ceilings and glass of residents' houses, and the elementary school. Because, the location of the settlement with the refinery is very close.
Even so, from the results of the inspection of the settlements after the incident, he confirmed that no community members were victims. Nine of the injured were employees of Pertamina.
"The damage is in the moderate category. I have also inspected one of the elementary schools, some of the walls are cracked, and the ceiling has collapsed in several classrooms. I have also visited one of the residents' houses near there, where the walls are also cracked. and damaged with broken glass," he said.
Previously, an explosion that triggered a strong vibration occurred on Saturday (1/4) at around 22.40 WIB. Neighbors said they felt a strong vibration when the sound of an explosion was heard.
One of the residents at the location, Rahmat, said he felt two strong vibrations during the explosion. Residents ran out of the house.
A number of videos circulating also show residents' houses shaking due to the explosion at the refinery. The ceiling of the mosque was also seen collapsing because of the strong explosion.
Currently nine injured victims have returned to their homes after receiving treatment at the Pertamina Dumai Hospital.
(tfq/tsa)
(Gambas:Video CNN)