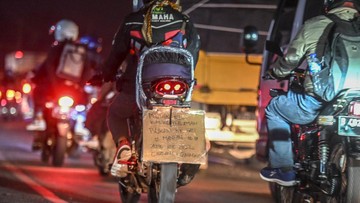 Jakarta, CNN Indonesia —
The government advises people not to go home using motorbikes at this year's Eid. People are encouraged to use public transportation, such as trains, buses and others.
The use of motorcycles during this year's Eid homecoming is expected to increase. The survey results of the Transportation Policy Agency of the Ministry of Transportation explained that this year there is a potential of 25.13 million motorbikes used during homecoming, or the second option after private cars with 27.32 million units.
Djoko Setijowarno, Deputy Head of Empowerment and Regional Strengthening of the Indonesian Transportation Society (MTI) Center cannot deny that the community's choice to go home using motorbikes is quite affordable and reliable when traveling in the destination area.
"The cost of using a motorcycle is cheaper than using a private car or public transportation. Even if it's a total of two people going back and forth," said Djoko in an official statement quoted, Monday (3/4).
According to Djoko, this cannot be obtained if you use public transportation and happen to have no vehicle in your hometown.
"Therefore, the choice of using a motorbike to go home is very profitable," he said.
The problem for Djoko is that the use of motorbikes when going home for Eid is prone to traffic accidents, because motorbikes are not designed for long-distance travel.
The risk of this accident is because motorbikes are limited in the number of passengers and luggage. Passengers are limited to a maximum of 2 people and items carried do not exceed the handlebars.
Article 61 of Government Regulation Number 55 of 2012 concerning Vehicles, states that motorbikes can only be used by the driver and 1 (one) passenger.
In addition, Article 10 (paragraph 4) of Government Regulation Number 74 of 2014 concerning Road Transportation, states (a) the width of the cargo does not exceed the handlebars, (b) the height of the cargo does not exceed 900 millimeters from the top of the driver's seat, and (c) cargo placed behind the driver.
Riding a motorcycle and not paying attention to personal and other people's safety factors can be punished under Article 311 paragraph (1) of Law Number 22 of 2009 concerning Road Traffic and Transportation with a maximum prison sentence of 1 year and a fine of IDR 3 million.
(Gambas:Video CNN)
(mik)
(Gambas:Video CNN)