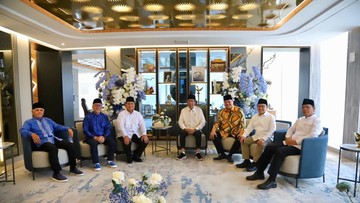 Jakarta, CNN Indonesia —
A large coalition of political parties in the face of the 2024 Presidential Election has the opportunity to form after President Joko Widodo (Jokowi) met the five general chairmen of the parties at the PAN DPP Office, Jakarta, Sunday (2/4) yesterday.
The five chairmen present included Golkar chairman Airlangga Hartarto, Gerindra chairman Prabowo Subianto, PAN chairman Zulkifli Hasan, PKB chairman Muhaimin Iskandar, and PPP chairman Mardiono.
This grand coalition will merge the United Indonesia Coalition (KIB), consisting of Golkar, PAN, and PPP, and the Great Indonesia Awakening Coalition (KKIR), consisting of Gerindra and PKB.
"We feel that there is the same frequency, yes, there is a match and if you look at our party leadership, Pak Cak Imin has entered, yes, we have joined Pak Jokowi's team," said Prabowo after the meeting.
The idea of ​​this grand coalition was initially revealed by Golkar Ketum Airlangga Hartarto after attending an iftar together at the NasDem Tower, Jakarta, last Saturday (25/3).
Airlangga is at the forefront of building a coalition with PAN and PPP. They formed KIB since mid-2022. However, KIB has yet to declare a presidential and vice presidential candidate.
Some of the names included in the KIB presidential exchange are Ganjar Pranowo, Ridwan Kamil, Airlangga Hartarto, Zulkifli Hasan, Mardiono, Sandiaga Uno, and Erick Thohir.
Meanwhile, Prabowo and Cak Imin initiated the Great Indonesia Awakening Coalition (KKIR). They officially declared this coalition in August 2022. This coalition also has not officially endorsed presidential and cawapres candidates.
President Jokowi, who was present at the meeting, responded positively to the discourse on five parties forming a grand coalition. However, he emphasized not to interfere in this plan.
"I'm just saying it's suitable. It's up to the party chairmen or a combination of party leaders. For the good of the country, for the good of the nation, for the people, matters related to it can be discussed, it will be better," he said.
Jokowi's big role
Political analyst and Executive Director of Algebra Strategic Arifki Chaniago believes that a grand coalition has the potential to materialize in the 2024 presidential election due to Jokowi's role.
He considered that Jokowi wanted to be a 'king maker' who could determine who the presidential and cawapres candidates would be who could continue his leadership.
"Jokowi wants to be the king maker in this meeting even though the agenda is held by PAN. And this shows the power of how Jokowi wants to show who he wants to direct in 2024," Arifki told CNNIndonesia.com, Monday (3/4).
Arifki said that in forming the two coalitions, KIB and KKIR, from the start they also received Jokowi's blessing.
This is in accordance with Jokowi's statement at the PAN Office yesterday that he approved the formation of the KIB and KKIR coalitions. However, Jokowi denied ordering the political parties to form a coalition.
Read "Jokowi Wants to Determine Presidential and Vice Presidential Candidates" on the next page…
Jokowi Wants to Determine the 2024 Presidential and Vice Presidential Candidates
READ THE NEXT PAGE