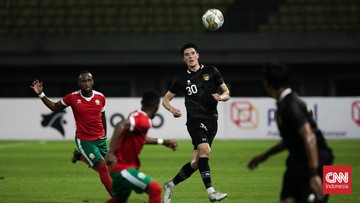 Jakarta, CNN Indonesia —
Elkan Baggott is included in the squad list for the U-22 Indonesian National Team for the 2023 SEA Games. Will Baggott be able to defend the U-22 National Team at the upcoming SEA Games?
Baggott is one of Indonesia's hopeful young players. Since making his debut with the Garuda Squad, Baggott has become a vital player at the back.
When this year's SEA Games listed the requirements for U-22 players as team members, Baggott, who was only 20 years old, fulfilled the qualification. Baggott's name has so far also been included in the SEA Games shadow squad.
However, the obstacle is Baggott's schedule with the Cheltenham Town club.
Even though the SEA Games will take place May 5-17, football will start being contested earlier from the end of April. This is common in every multi-event organization.
The problem is that in the duration of the SEA Games, there are still matches to be played by Cheltenham Town. The match was against Wycombe Wanderers (29/4) and Charlton Athletic (7/5).
If you count the preparation period the previous week, including travel time, there are two matches included in Cheltenham Town's schedule, namely against Forest Green Rovers (22/4) and Oxford United (26/4).
PSSI chairman Erick Thohir had previously directly asked Baggott to join the defense for the Indonesian national team in the SEA Games. However, the biggest obstacle is that the SEA Games are not included in the FIFA calendar so that clubs are not obliged to release players.
Because of that, the negotiating ability of PSSI is the main key to be able to bring Baggott to play for the U-22 Indonesian National Team in the upcoming SEA Games. If Baggott is present, this will certainly be a major addition to the Indonesian national team's back line.
Indonesia last won the SEA Games in 1991. The SEA Games gold medal was also the last prestigious title for the Indonesian national team on the international stage.
(Gambas:Video CNN)
(ptr)