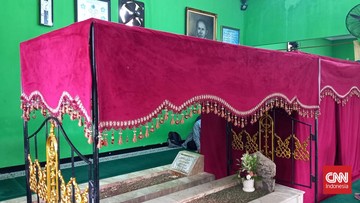 Jakarta, CNN Indonesia —
The footsteps of the pilgrims could be heard approaching the 6×12 meter green building surrounded by hundreds of tombstones. The sound slowly disappeared in front of a tomb with a crimson curtain, replaced by the chanting of holy verses that echoed from all angles.
Dozens of pilgrims were observed going back and forth from morning to noon at the tomb complex of Habib Ahmad bin Alwi Al Haddad or more familiarly called Habib Kuncung on Jalan Rawajati Timur II, Pancoran, South Jakarta, Thursday (16/3).
The Habib Kuncung tomb complex is adjacent to the Jami At-Taubah Mosque which is the oldest mosque in Kalibata with approximately one century of age.
The gate that reads 'Kramat Habib Ahmad bin Alwi Al Haddad (Habib Kuncung) and the Tomb of the Habib Abdullah bin Ja'far Al Haddad Family,' is the dividing mark between the two old buildings.
Not far from the gate, several Muslim accessories traders were seen selling their wares. Starting from the cap to the Habib Kuncung poster.
Habib Kuncung's tomb complex stretches so wide. Hundreds of ceramic tombs surround the green building which is the final resting place of Habib Kuncung. In fact, several graves are also in the hall of the structure.
The composition contains seven graves namely Habib Ahmad bin Alwi Al Haddad or Habib Kuncung, Habib Abdullah bin Ja'far Al Haddad, Syarifah Fatmah bint Abdullah bin Haddad, and Habib Abdurahman bin Syahab.
Then there is Habib Abdullah bin Husein Syami Al-Attas, Habib Husain bin Ummar Al-Attas, and Habib Thoha bin Muhammad bin Abdullah.
One of them was tightly closed by a dark red mosquito net. Behind the mosquito net resides Habib Kuncung.
The caretaker of Habib Kuncung's tomb, Muhammad Bagus Hidayatullah (44) said that the red mosquito net covering the grave is likened to clothes for someone who has a high position.
CNNIndonesia.com and Bagus opened the mosquito net covering the tomb. The sweet smell of real flowers wafts in the nose when the thick mosquito net is opened. According to him, the mosquito net cannot be opened carelessly. In fact, even by pilgrims.
It can be seen that Habib Kuncung's tomb and gravestone are made of marble. Apart from that, Habib Kuncung's grave also looks higher than the six graves next to it. This is because Habib Kuncung is considered to have the highest degree.
Bagus said Habib Kuncung came from Hadhramaut, South Yemen. He is a rich merchant in the country.
Habib Kuncung studied religion directly from his father. After studying religion, he received a message or instructions to move to Asia. The first Asian country to visit was Singapore. There he left all his wealth and decided to return to Yemen.
After that, Habib Kuncung moved to Surabaya and East Nusa Tenggara (NTT). In NTT, Habib Kuncung married Syarifah Rogoan and was blessed with one child named Habib Muhamad.
"After that he came to Bugis, South Sulawesi," Bagus told CNNIndonesia.com.
The name Habib Kuncung originated from being given a conical cap from a Bugis King. The cap was a gift for Habib Kuncung for successfully curing the crown princess of the king.
According to him, the name Habib Kuncung was first heard in Surabaya.
"The cap is a long model. People don't know the real name. That's Habib Kuncung, Habib Kuncung. That's the one wearing the cap. So that's where Habib Kuncung was originally called," Bagus explained.
Long story short, Habib Kuncung decided to stay in Jakarta, precisely in Kalibata. There he met Habib Abdullah bin Ja'far Al Haddad who was a landlord in Kalibata. The two then formed a relationship like brothers.
Not long after, Habib Abdullah bin Ja'far Al Haddad fell ill and later died in 1916. However, before that Habib Abdullah bin Ja'far Al Haddad had asked Habib Kuncung about his wishes. Habib Kuncung also asked for a small house in Kalibata.
"After that, 10 years later Habib Ahmad (Habib Kuncung) followed in 1926, it was estimated that way," Bagus said.
The story of a corpse that cannot be lifted when it is about to be buried
READ THE NEXT PAGE