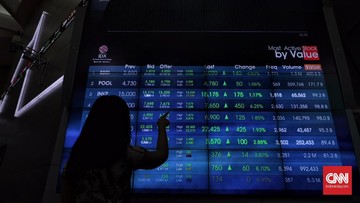 Jakarta, CNN Indonesia —
The Composite Stock Price Index (IHSG) fell 3.67 points or minus 0.05 percent to a level of 6,805 last week's trading. Foreign investors recorded a net buy of IDR 2.60 trillion during the week.
In the past week, the stock index has strengthened twice and weakened three times. In total, the performance of the stock index strengthened 0.64 percent.
Indonesian Stock Exchange (IDX) Acting Corporate Secretary Yulianto Aji Sadono said the average daily transaction value of the stock exchange collapsed 5.70 percent to IDR 9.74 trillion from IDR 10.33 trillion in the previous week.
The exchange's average daily transaction frequency also fell 0.39 percent in a week from 1,224,863 transactions to 1,220,053 transactions.
The heaviest decline was experienced by the average exchange transaction volume to 15.276 billion shares from 17.262 billion shares in the previous week or 11.51 percent.
"The increase occurred in the stock market capitalization by 1.04 percent to IDR 9,488 trillion from IDR 9,390 trillion at last week's closing," he said as quoted from the IDX website, Friday (31/3).
Capital Market Observer Oktavianus Audi projects that the JCI will move moderately this week with a range of movements at the support level of 6,828 and resistance of 6,953.
There are 3 main sentiments that Audi is wary of. First, the release of S&P Manufacturing Indonesia data for the March 2023 edition which is expected to drop to level 50. Even though it is still in an expansionary zone, Audi sees that pressure from the manufacturing industry could have a negative impact on Indonesia's economic growth.
Second, the release of Indonesian inflation data in March 2023 which is expected to slow down again to the level of 5.2 percent year on year (yoy). Even though it is projected to fall, Audi assesses that Indonesia's inflation will still be challenged by this year's Eid conditions.
Third, data on the US unemployment rate is expected to remain at 3.6 percent and non-farm payrolls (NFP) will drop to 238 thousand additional workers. If the prediction is correct, he sees the potential for the Fed to reduce interest rate hikes.
"The easing of banking crisis sentiment will still have a positive impact on the market. The weakening US dollar will also strengthen commodities. Also, recording dividends will still provide positive sentiment for market movements," he told CNNIndonesia.com, Sunday (2/4).
In this condition, Audi advises investors to look at the energy sector. According to him, this sector will benefit from dividend sentiment and rising commodity prices.
Technically, he recommended two stocks to buy on breakout (BoB), namely PT Bukit Asam Tbk (PTBA) at the 4,000 level and PT Transkon Jaya Tbk (TRJA) at position 330. Audi expects PTBA to penetrate 4,330 and TRJA to reach 388. this week.
In addition, he advised investors to look at PT Adaro Minerals Tbk (ADMR) shares which skyrocketed 7.95 percent to a level of 1,290 last week. Audi predicts that this week's ADMR will move in the range of 1,170-1,525.
Finally, Audi highlighted PT Astra International Tbk (ASII) shares which rose 1.69 percent to 6,000 last week. ASII is projected to be thriving this week, breaking the 6,500 level.
Continued on next page…
Automotive Stock Opportunities
READ THE NEXT PAGE