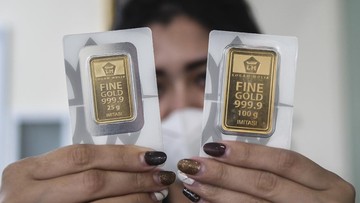 Jakarta, CNN Indonesia —
PT Aneka Tambang (Persero) Tbk alias Antam's gold price was Rp. 1.068 million per gram on Monday (3/4). The price decreased by IDR 4,000 thousand compared to the previous trade of IDR 1.072 million per gram.
Likewise, the buyback price also decreased by IDR 4,000 from IDR 959 thousand per gram to IDR 955 thousand per gram.
Based on Antam's data, the selling price of 0.5 gram gold is IDR 584 thousand, 2 grams is IDR 2 million, 3 grams is IDR 3.1 million, 5 grams is IDR 5.1 million, 10 grams is IDR 10.1 million, 25 grams is IDR 25.3 million, and 50 grams IDR 50.5 million.
Then, the price of gold measuring 100 grams is IDR 101 million, 250 grams is IDR 252.2 million, 500 grams is IDR 504.3 million, and 1 kilogram is IDR 1 billion.
The selling price of gold does not include Income Tax (PPh) 22 on gold bars of 0.45 percent for holders of Taxpayer Identification Numbers (NPWP). Buyers who do not include a NPWP are subject to a higher tax deduction of 0.9 percent.
The price of gold in international trade based on the Commodity Exchange market reference COMEX weakened 0.39 percent to US$1,978 per troy ounce. In line with the price of gold in spot trading also fell 0.48 percent to US $ 1,959 per troy ounce this morning.
DCFX Senior Analyst Lukman Leong predicts that the price of gold will be depressed starting this week due to the strengthening of the US dollar amid declining sentiment in international markets.
"However, this decline was actually more due to profit taking and investors waiting and seeing in the middle of a busy week with important economic news," Lukman told CNNIndonesia.com.
Today, Lukman estimates that the international gold price will be within the support range of US$1,940 per troy ounce and resistance of US$1,985 per troy ounce.
(Gambas:Video CNN)
(ldy/sfr)