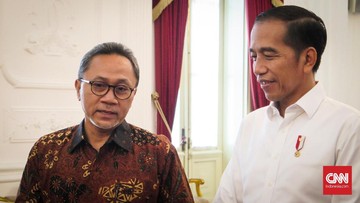 Jakarta, CNN Indonesia —
National Mandate Party (PAN) chairman Zulkifli Hasan hopes that the five party general chairmen will support President Joko Widodo's choice.
He conveyed this in the Ramadan Gathering with President Jokowi at the PAN DPP Office. The event was attended by Zulhas, Golkar Party chairman Airlangga Hartarto, general chairman Prabowo Subianto, PAN chairman Zulkifli Hasan, PKB chairman Muhaimin Iskandar, and PPP chairman Mardiono.
"God willing, it is becoming more solid, compact, one heart, one thought, God willing, one choice under the command of Mr. President," said Zulhas in an event called Minggu (2/4).
Zulhas did not explain what "one choice under Jokowi's command" meant. However, he spoke a lot about the 2024 presidential election on that occasion.
He lauds Prabowo's increase in electability in recent times. Zulhas believes that this happened because Prabowo often accompanied Jokowi on work visits.
He also discussed the solidity of the United Indonesia Coalition (KIB). Zulhas said the coalition was solid because of the role of the general chairman of the Golkar Party, Airlangga Hartarto.
On that occasion, Jokowi responded to Zulhas' speech. He said he always claimed to bless the coalitions leading to 2024.
"If it comes to me in building a coalition (claiming) this has been approved by the president, what is his (president's) business? It has nothing to do with it," he said.
(df/DAL)
(Gambas:Video CNN)