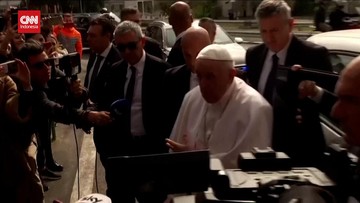 CNN Indonesia
Sunday, 02 Apr 2023 11:20 WIB
Jakarta, CNN Indonesia —
Pope Francis left the hospital on Saturday (1/4) after being treated for three nights.
The 86-year-old pope is being treated at the Gemelli Hospital, Rome to treat bronchitis.
His condition was getting better after being given an antibiotic infusion.
When he left the hospital he greeted the sympathizers and the media who were waiting for him.