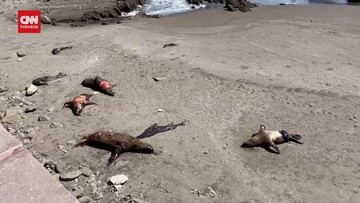 REUTERS | CNN Indonesia
Sunday, 02 Apr 2023 19:26 WIB
Jakarta, CNN Indonesia —
Dozens of carcasses of sea lions that died from bird flu washed up on the coast of Valparaiso, Chile on Friday (31/3).
Caves de Anzota, a tourist cliff area, was forced to close due to the risk of disease from decomposing sea lion carcasses.
The first case of bird flu in humans in Chile was detected in a 53-year-old man on Wednesday (29/3).
He is showing severe flu symptoms, but is now said to be in a stable condition.