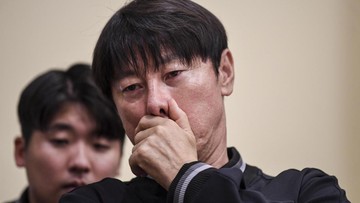 Jakarta, CNN Indonesia —
Coach Shin Tae Yong gave advice to the U-20 Indonesian National Team players who had been officially disbanded on Saturday (1/4).
In the last training camp before the arrival of President Joko Widodo, Shin explained that it was no longer possible for the majority of players to play in the U-20 World Cup due to their advancing age.
The coach from South Korea also reminded the players that they could still compete in other prestigious events in the future.
"Especially if you get older, you definitely won't be able to play again in the U-20 World Cup. But I see you, there is the Olympics, the World Cup, I think you can do it," Shin said, translated by a translator.
"If the mentality of the players is stronger and the will is even higher. There is the 2024 Olympics in Paris, the World Cup, I judge that you can do enough with your abilities. Don't be too sad because the U-20 World Cup failed," he said as recorded in the camera lens PSSI media.
The figure who used to be the midfielder for the South Korean national team also reminded the players to maintain their abilities on and off the field so they could compete at the highest level.
"For your personal success, I beg you to work hard including against yourself. This is sport, football, if we look for safety it means we have lost. Don't want to look for safety in this football, you must always fight yourself. Then you will get success."
"This (U-20 World Cup) has passed, don't keep your mind here. Let go, you have to see further, higher, especially since the players here are still young, don't lose your dreams. You have to see your dreams higher and further. ," said Shin motivating.
Shin also reminded the players to keep showing their best performance wherever they are so that they become role models for their teammates, including the players who were called up for training to defend the U-22 Indonesian National Team and who returned to their respective clubs.
(Gambas:Video CNN)
(nva/jal)