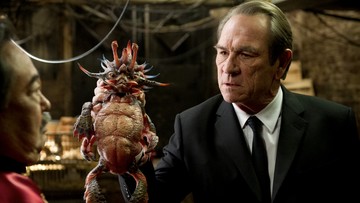 Jakarta, CNN Indonesia —
Trans TV will broadcast BLOCKBUSTER SAHUR MOVIES Monday (3/4) early morning edition, Men in Black 3 (2012) at 01.45 WIB.
Men in Black 3 is the third in the film series, still starring Tommy Lee Jones and Will Smith before moving on to Chris Hensworth and Tessa Thompson in the International series.
Here's a synopsis of Men in Black 3 on BLOCKBUSTER SAHUR MOVIES TRANS TV.
Men In Black III, tells about the adventures of two secret agents, Agent K (Tommy Lee Jones) and Agent J (Will Smith) who are facing a new chapter in their duties as agents in The Men in Black.
Now, Agent K and Agent J are assigned to catch Boris (Jemaine Clement), an alien who has managed to escape from a special alien prisoner (LunarMax) located on the moon.
Boris, who intends to complete his revenge on agent K for imprisoning and severing one of his hands.
He also uses a time machine to go to 1969 before agent K manages to catch and sever his hand.
Boris's mission was not in vain because he succeeded in killing agent K in order to dominate the earth and mankind.
Meanwhile, agent J (Will Smith) begins to feel something strange when suddenly his partner is declared dead 40 years ago at the hands of Boris.
(Gambas:Video CNN)
Even though the day before, agents J and K had carried out routine tasks together. In the end, agent J finds out that Boris went to the past and killed his partner.
When the earth's condition became critical, agent J also went to the past in 1969 to save agent K and save the earth by continuing the Arcnet project. Unexpectedly, agent J also finds surprising facts about his relationship with agent K.
Man In Black 3 is a science fiction comedy film directed by Barry Sonnenfeld. The film was made on a budget of US$215-225 million.
But that amount is comparable to the income earned, which was US $ 624 million from the overall box office screening.
After knowing the synopsis of Man in Black 3, watch the film on BLOCKBUSTER SAHUR MOVIES TRANS TV on Monday (3/4) at 01.45 WIB.
(Gambas:Youtube)
(chris)
(Gambas:Video CNN)