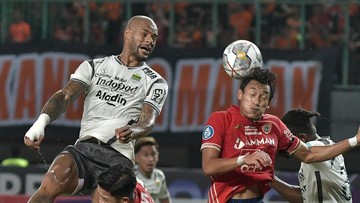 Jakarta, CNN Indonesia —
Persib Bandung center back Achmad Jufriyanto appreciated Jakmania's escort of Maung Bandung's players after the match against Persija Jakarta, Friday (31/3).
Persib players came to Patriot Candrabhaga Stadium, Bekasi, using armored vehicles. Likewise when returning home from the venue.
What was different when the Persib entourage returned was the additional security from Jakmania. Several youths stood holding on to the sides and back of the car as if they were an additional shield for the vehicle carrying the Blue Prince players.
Apart from that, there was also another Jakmania who made a kind of posse to accompany the Persib players' return home.
"I wasn't with the team when I was away against Persija yesterday, but hearing friends' stories there was amazing, even the Jak escorted us."
"It feels like there's no need to ride a barracuda when the story is different. Thank you The Jak Mania, congratulations @persija," wrote the player who is familiarly called Jupe in his Instagram feed, Sunday (2/4) afternoon, closing his writing with a blue and orange heart. .
(Gambas:Instagram)
In the same upload, Jupe also displays four photos of Persib's return from the stadium. Two of them show the situation outside the car, while the other two show the conditions inside the car with the presence of Persib team doctor Raffi Gani and Persib player Nick Kuippers.
Jupe's upload received a response from the general chairman of Jakmania, Diky Soemarno.
"Thank u pe.. thank god everything went smoothly," Diky wrote shortly.
Persija won the weekend match against Persib with a score of 2-0. Riko Simanjuntak and Michael Krmencik's goals yielded three points.
(Gambas:Video CNN)
(nva/jal)