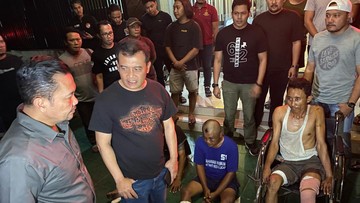 Semarang, CNN Indonesia —
The joint team from the Cilacap Police and the Central Java Police Jatanras managed to arrest the robbers who were in action in Cilacap on Monday (27/3).
In this arrest, officers had to paralyze the three perpetrators consisting of Sugiyono, Buwang and Iwan with shots in the leg. They were shot because they tried to escape when they were taken to show evidence of a crime in the Oku area, on the border of Lampung and Palembang.
"Our members had to paralyze the three of them because they tried to run away and pushed the officers when they were being chased (taken, red) looking for evidence in the Oku area," said Director of General Criminal Investigation at the Central Java Regional Police Commissioner Johanson Ronald Simamora to CNN Indonesia, Sunday (2/4) .
The hunt began with the arrest of a suspect named Buwang in the Tangerang area, Banten. From Buwang, officers managed to detect the whereabouts of two other suspects, namely Sugiyono and Iwan, who were hiding in a house in the Oku area, on the border of Lampung and Palembang.
The arrests of Sugiyono and Iwan were carried out with extra caution because both of them were carrying firearms which had been used to injure their victims in Cilacap.
"Initially what was arrested by Buwang in the Banten area, we will continue to develop Sugiyono and Iwan in Oku. Tomorrow we will release it, this team is on a trip to Semarang," added Johanson.
The Central Java Police Chief Inspector General of Police Ahmad Lutfi at the Central Java Regional Police Headquarters awaited the presence of the team and the perpetrators. Luthfi immediately congratulated and thanked the team members who were a combination of the Cilacap Criminal Investigation Unit and the Central Java Police Criminal Investigation Unit.
"I have warned many times, don't act in Central Java if you don't want to face our children at Resmob and Jatanras," said Luthfi.
Previously, robbers raided a shop in Kaliwungu Village, Kedungreja, Cilacap on Monday (27/3). In his action, the perpetrator pointed a gun and shot two residents around the shop so that he managed to steal money worth 100 million rupiah.
After only running for a few meters, the perpetrator who rode the motorbike returned to the shop while opening fire to scare residents and finally entered the shop with a computer, CCTV recording data and then fled.
(dmr/wis)
(Gambas:Video CNN)