Jakarta, CNN Indonesia —
The price of fuel oil (BBM) at a number of public refueling stations (SPBU) has steadily decreased as of April 1, 2023. This applies to Pertamina gas stations or other private companies.
Quoting the Pertamina website, the price of Pertamax Turbo fell from Rp. 15,100 per liter to Rp. 15,000 per liter. Pertamina Dex's price also fell to IDR 15,400 per liter from the previous IDR 15,850 per liter.
Private gas stations such as Shell also lowered their fuel prices. Quoting the Shell website, Shell V-Power currently costs IDR 14,790 per liter from IDR 14,890 per liter.
Shell V-Power Diesel also fell from IDR 16,000 per liter to IDR 15,440 per liter and Shell V-Power Nitro+ from IDR 15,240 per liter to IDR 15,100.
The price of fuel at VIVO gas stations has also decreased for the Revvo 90 type from IDR 13,400 per liter to IDR 11,600 per liter. Then Revvo 95 drops from IDR 14,700 to IDR 14,595 per liter.
BP also reduced the price of BP 90 from IDR 14,110 per liter to IDR 13,850 per liter. BP 92 also increased from IDR 14,200 to IDR 13,950 per liter.
The following is a list of fuel prices at Jabodetabek gas stations starting April 1, 2023:
Pertamina
– Pertalite: IDR 10,000 per liter
– Pertamax: IDR 13,300 per liter
– Pertamax: Turbo IDR 15,000 per liter
– Pertamina: Dex IDR 15,400 per liter
– Dexlite: IDR 14,250 per liter
– Solar: Rp6.800 per liter
Shell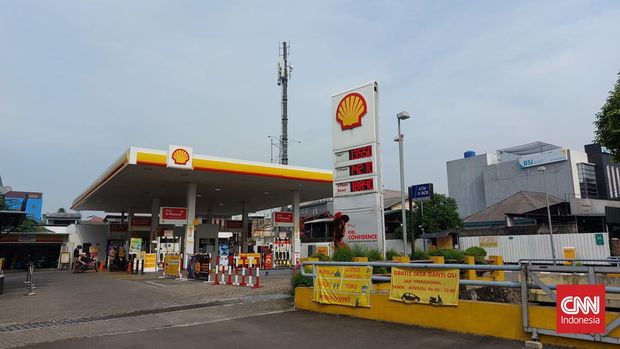 Illustration. Shell also lowered the prices of some of its fuels on April 1. (CNN Indonesia/ Mochammad Ryan)
-Shell Super: Rp13.990 per liter
-Shell V-Power Rp14.790 per liter
-Shell V-Power Diesel: Rp15.440 per liter
-Shell V-Power Nitro+: Rp15.100 per liter
Vivo
-Revvo 90: Rp11.600 per liter
-Revvo 92: Rp14.000 per liter
-Revvo 95: Rp14.595 per liter
BP
– BP 90: Rp13.850 per liter
– BP 92: Rp13.950 per liter
– BP Ultimate: Rp14.790 per liter
– BP Diesel: Rp14.270 per liter
(fby/asr)
(Gambas:Video CNN)