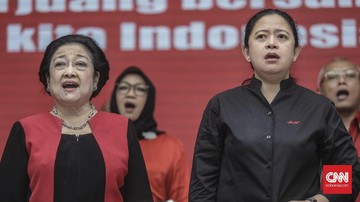 Jakarta, CNN Indonesia —
Political observer from Esa Unggul University, Jamiluddin Ritonga, believes that PDIP will suffer big losses if a grand coalition of five parties is formed.
The formation of a grand coalition of five parties emerged after President Jokowi's meeting with the general chairmen of PAN, Golkar, PKB, Gerindra and PPP today.
Jamiluddin said PDIP would not be able to stand against the political and financial power of the grand coalition. According to him, PDIP's achievements in a number of survey institutions will not materialize.
"Indeed, this will be a big loss for the PDIP. Why? Because since reform, we have seen that no party that does not form a coalition can win the presidential election," Jamiluddin said when contacted by CNNIndonesia.com, Sunday (2/4).
Jamiluddin said the best option for PDIP was to join the coalition. He said there was an option for PDIP to join a grand coalition of five parties or the Change Coalition supporting Anies Baswedan.
"If it's to catch up to win, yes. If it's to win a hat trick, three wins in a row, he should form a coalition," he said.
PDIP also has the option of running without a coalition in the 2024 presidential election. They have a ticket for 20 percent of the seats in the DPR RI to nominate president and vice president without the help of other parties.
Jamiluddin sees that this option has a better effect on democracy. The public will be presented with a wider choice of candidates.
"The principle of democracy provides many alternatives. If there are only two choices, then the alternative is dichotomous, not good for growth in Indonesia," he said.
Previously, President Jokowi met with five party chairmen. The five people are General Chair of the Golkar Party Airlangga Hartarto, General Chair Prabowo Subianto, PAN General Chair Zulkifli Hasan, PKB General Chair Muhaimin Iskandar, and PPP Chair Mardiono.
In the meeting, the general chairmen of the parties discussed plans to form a grand coalition. The coalition is a fusion of the United Indonesia Coalition and the Greater Indonesia Awakening Coalition.
"We feel that there is the same frequency, yes, there is a match and if we look at our party leadership, Pak Cak Imin, yes, we have joined Pak Jokowi's team," Prabowo said after a meeting at the PAN DPP Office, Jakarta, Sunday (2/4) .
(dhf/wis)
(Gambas:Video CNN)