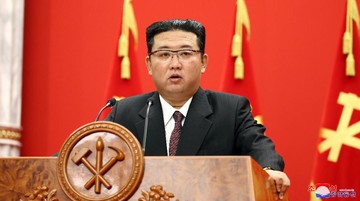 Jakarta, CNN Indonesia —
North Korea executes a pregnant woman for showing a photo of Kim Jong Un's grandfather, Kim Il Sung, at a dance.
Another piece of news that is in the spotlight is a Russian military blogger who was killed by an explosion in a cafe.
Here are a number of world news over the weekend which are summarized in this morning's International Flash:
South Korea reports that North Korea has executed a pregnant woman for pointing to a photo of Supreme Leader Kim Jong Un's late grandfather, Kim Il Sung, who was the founder of the communist state.
This was revealed by the Ministry of Unification of South Korea in its 400-page annual report on human rights in its neighboring country. The report said the woman was sentenced to death after a video circulated showing her pointing to a photo of Kim Il Sung dancing in his house.
"Execution is carried out even for acts that do not require the death penalty to be applied. Some crimes that are punishable by North Korea are related to drugs, distribution of content and videos from South Korea, to religious activities," the report said.
(Gambas:Video CNN)
Ukraine was outraged after Russia assumed the leadership of the UN Security Council (UNSC) as of Saturday (1/4). Ukraine, which is currently being invaded by Russian troops, believes that the country led by Vladimir Putin should not be tasked with maintaining global peace and security.
Ukrainian Foreign Minister Dmytro Kuleba said Russia, which led the Security Council when its brutal invasion of Ukraine entered its second year, was "the world's worst April Fool's joke."
"A country that systematically violates all the basic rules of international security is leading a body whose sole mission is to safeguard and protect international security," said Kuleba.
Ukraine suspects the explosion in a St Petersburg cafe that killed pro-President Vladimir Putin blogger Vladlen Tatarsky was the result of an inter-Russian dispute.
"Spiders usually eat each other in jars. The question of when domestic terrorism will become an instrument for internal political strife is only a matter of time," said Ukrainian presidential adviser Mykhailo Podolyak, as quoted by CNN.
Podolyak raised these suspicions after the Russian Foreign Ministry mentioned Ukraine in their statement of condolences for Tatarsky's death.
(tim/bac)