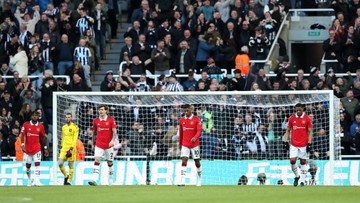 Jakarta, CNN Indonesia —
Manchester United players held an emergency meeting without Erik Ten Hag after losing to Newcastle United 0-2 in the English Premier League at St. James Park, Sunday (2/4).
Two header goals from Joe Willock and Callum Wilson in the second half saw MU lose 0-2 to Newcastle. The defeat also made Man Utd shifted by Newcastle from third place in the Premier League standings.
The Man Utd players looked frustrated after the game. This is understandable, because Erik Ten Hag's team has not only dropped in the standings, but The Red Devils have also never won any of their three Premier League matches since winning the 2022 Carabao Cup.
After the match, the Manchester United players immediately gathered and held an emergency meeting. Without the presence of Ten Hag, the MU players discussed the team's poor performance when they were defeated by Newcastle.
"I'm not going to go into too much detail on that (emergency meeting), but the players were talking in the locker room without the presence of other staff," said United defender Luke Shaw, quoted by Reuters.
"Because this defeat all depends on the appearance of the players on the field, and we are far from being good enough. We have to speak up in front of each other," continued Shaw.
Newcastle United dominated the match against MU. Shaw said the Red Devils really deserved to swallow defeat at Newcastle headquarters.
"This is not the result we wanted and hoped for. When you come to a stadium like this, against a good team, and don't perform well, then you will have a tough day. We deserved to lose," said Shaw.
"All the players need to rest (after the international break). Our level has dropped, that is clear. Today we came and were ready to play, but when the whistle sounded it was the opposite. This is unacceptable," said Shaw.
(Gambas:Video CNN)
(har)