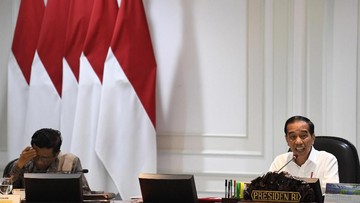 Jakarta, CNN Indonesia —
Coordinating Minister for Political, Legal and Security Affairs Mahfud MD hopes that Indonesia will not receive severe sanctions from FIFA following the cancellation of Indonesia's status as host of the 2023 U-20 World Cup.
"Hopefully the sanctions from FIFA will not be too severe for our football development, and that is God willing. God willing, the sanctions will not prevent Indonesia from participating in FIFA activities, God willing, it won't end there," Mahfud said at the UGM Campus Mosque , Sleman, DIY, Sunday (2/4).
Mahfud further said President Jokowi faced a dilemma regarding the status of the host for the 2023 U-20 World Cup, which was supposed to be held in Indonesia from May 20 to June 11.
"But there may be other sanctions that we are just waiting for. But please understand. The government, especially Pak Jokowi, faced a dilemma which was then resolved as it is today," said Mahfud.
Mahfud stated that FIFA's decision was a middle way for Indonesia to uphold President Sukarno's anti-imperialist principles in response to the Israeli occupation of Palestine and demands for participation in international relations through sports.
For the government, continued Mahfud, this is a dilemma that is not easy to face and find a way out of it. So he asked the public to be able to understand it.
"The public must understand, younger footballers must understand, then the world of politics must also understand. The decision has been made, the decision has been made, let's think the current path is according to the decision taken by FIFA. And we will continue to open the door to play at FIFA," said Mahfud.
World football authority FIFA has officially removed Indonesia from hosting the 2023 U-20 World Cup.
FIFA did not explain specifically the reasons for revoking Indonesia's host status. They only mentioned the revocation of host status based on the current situation in Indonesia.
This situation is allegedly related to the rejection by a number of regional heads of the presence of the Israeli U-20 national team at the 2023 U-20 World Cup.
(Gambas:Video CNN)
(kum/has)
(Gambas:Video CNN)