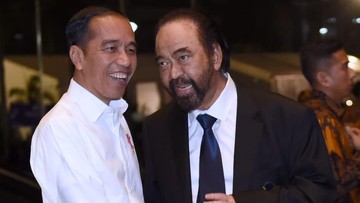 Jakarta, CNN Indonesia —
President Joko Widodo will hold a meeting with general chairmen of political parties ahead of a cabinet reshuffle.
The meeting will be held on the sidelines of the Ramadan Gathering with the Indonesian President at the PAN DPP Office, Jakarta. The meeting will be held behind closed doors after the Zuhr prayer.
"Later on, the President and the political party heads will move to the room above, on the 3rd floor there will be a discussion there," said PAN Deputy Chairperson Yandri Susanto at the PAN DPP Office, Jakarta, Sunday (2/4).
Yandri said that a number of coalition political party chairmen were confirmed to attend. Some of them are the General Chair of the Golkar Party Airlangga Hartarto, General Chair Prabowo Subianto, PAN General Chair Zulkifli Hasan, PKB General Chair Muhaimin Iskandar, and PPP General Chair Mardiono.
It is likely that PDIP Chairperson Megawati Soekarnoputri will be represented because she is currently in Japan. Meanwhile, PAN did not invite the chairman of the NasDem Party, Surya Paloh.
"The reason may be that friends already know," said Yandri when asked the reason for not inviting the NasDem, PKS, and Democrats.
"The consideration is that this meeting was designed by several political parties, of course with the blessing of the President, right, that's what was invited," added Yandri.
Previously, Jokowi gave a signal that he would reshuffle the cabinet. He said there would be an inauguration of the minister of youth and sports (menpora) to replace Zainudin Amali next week.
"Next week. Later (name to be appointed). Next week," Jokowi said in the Lido Special Economic Zone, Bogor, Friday (31/3).
(dhf/mik)
(Gambas:Video CNN)