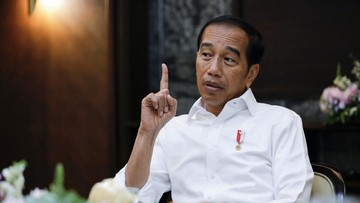 Jakarta, CNN Indonesia —
President Joko Widodo shared his grievances about Indonesia's failure to host the U-20 World Cup. He admitted that a number of regional heads had signed a commitment to host the event.
"The designated province and city also have signatures. The city hosts the commitment to have all the signatures," he said in the Ramadan Gathering with President Jokowi at the PAN DPP Office, Sunday (2/4).
Then Jokowi said that the Government had been preparing for the event for three years. The preparation includes field inspection, field repair and field construction.
"The field was checked, repaired, checked again, repaired checked again, it's not that easy, and currently signing the Guarantee Country Host and City Host, everything that we have to commit to and we sign has been written there," he said.
But in the end, that could not keep the U-20 World Cup going. He admitted that he had to be patient because a series of preparations did not produce results.
"But oh, it's dizzy, it's really dizzy taking care of the ball, it's dizzy," he said.
World football authority FIFA has officially removed Indonesia from hosting the U-20 World Cup.
FIFA did not explain specifically the reasons for revoking Indonesia's host status. They only mentioned the revocation of host status based on the current situation in Indonesia.
This situation is allegedly related to the rejection by a number of regional heads of the presence of the U-20 Israel National Team.
Two PDIP cadres, namely Bali Governor Wayan Koster and Central Java Governor Ganjar Pranowo, became the heads of the front areas who rejected Israel's presence.
The reasons for both rejecting the arrival of the Israeli national team referred to the constitutional mandate and solidarity with Palestine, which is still occupied by Israel.
The rejection of the two received the spotlight because Central Java and Bali were the areas that were prepared as hosts.
(dhf/can/wis)
(Gambas:Video CNN)