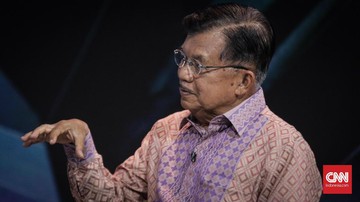 Jakarta, CNN Indonesia —
Former Vice President Jusuf Kalla (JK) said that there were only two countries that allowed their citizens to participate in building mosques. The Indonesian people should be grateful that the government does not "monopolize" the construction of mosques in Indonesia.
However, he did not mention another country that allows its people to build their own mosques.
"What distinguishes Indonesians from outsiders? Indonesia is only (one of) two countries in the world that built mosques by the people themselves," JK said while giving a lecture at the UGM Campus Mosque, Sleman, DIY, Friday (31/3) evening.
He then compared Indonesia to Malaysia and Saudi Arabia where the construction of mosques was organized by the state so that the activity of delivering sermons could be regulated.
"If we are different, sometimes there is a mosque as soon as it rises, the government criticizes it all out," said the general chairman of the Indonesian Mosques Council (DMI).
JK explained that lectures or sermons that violate government regulations in the neighboring country could result in arrests by the Royal Malaysian Police.
"Especially in Saudi, 10 years is a prison term. So, Indonesian Muslims are happy that we can convey things that we think are important," said JK.
According to JK, Indonesia as the largest Muslim country has nearly one million mosques and prayer rooms scattered on every street corner. Meanwhile, Malaysia, with a population of 30 million, only has 760 mosques.
"There is a mosque on every street in the village. Until our council of this mosque arranges that you don't make the call to prayer too loud, because it often goes beyond other mosques so we hear it but it's not clear what is being said. This is important for all of us," concluded JK.
(fby/mik)
(Gambas:Video CNN)