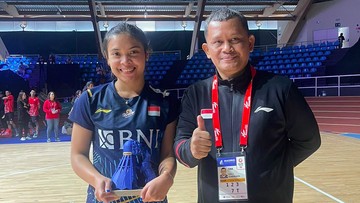 Jakarta, CNN Indonesia —
Gregoria Mariska Tunjung admitted that she appeared with a thigh muscle problem before winning the 2023 Spain Masters by defeating P. V Sindhu, Sunday (2/4).
Gregoria won the 2023 Spain Masters after defeating the second seed, Pusarla V. Sindhu from India in the 2023 Spain Masters final.
In the match that was held at the Centro Deportivo Municipal Gallur, Sunday (2/4), Gregoria won over Pusarla V. Sindhu in two straight games 21-8, 21-8.
However, who would have thought that Gregoria would appear in the final in poor condition due to a thigh muscle problem.
"I had a cold at the Swiss Open and at the Spain Masters, my thighs began to tighten in their muscles, as if they were being pulled. But I try to focus on thinking about one thing at a time," said Gregoria.
Even though she appeared with problematic thigh muscles, Gregoria still managed to look extraordinary throughout this championship.
In the semifinal match of the Spain Masters 2023, Saturday (1/4), Gregoria managed to defeat first seed Carolina Marin.
Then in the final, Gregoria managed to defeat the second seed, Pusarla V. Sindhu. However, Gregoria admits that she is not satisfied with the results she has achieved so far.
"Not satisfied with the results now. I'm trying to motivate myself to get another title. In the future, I have many targets to achieve, but what is certain is that I want to develop what I have, improve what I already have. Hopefully I won't be burdened by this result," said Gregoria.
The athlete, who is familiarly called Jorji, presented the 2023 Spain Masters title to his supporters.
"This title is for all those who have supported me to this day. This victory also means a lot to me. I was very down, but thank God I was able to get through that and get up again," said Gregoria.
(Gambas:Video CNN)
(rhr/har)