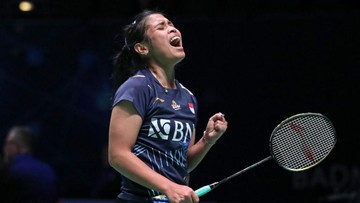 Jakarta, CNN Indonesia —
Indonesian women's singles Gregoria Mariska Tunjung made a sweet surprise for Indonesia by winning the 2023 Spain Masters.
Gregoria has had a rocky road to win her first BWF World Tour title. Even in his journey, the 23-year-old badminton player got rid of two seeds, Carolina Marin and Pusarla V. Sindhu.
Gregoria received great resistance from South Korea's representative, Kim Ga Eun in the round of 16. Gregoria was left behind in the first game with a score of 12-21 and then recovered in the next two games.
Gregoria was even in a critical position in the third game because she was trailing 17-20. But the unyielding game allowed Gregoria to reverse the situation to win dramatically 23-21.
Gregoria took another tough test in the semifinals when she met Marin who was the first seed. Gregoria again lost the first game with a score of 10-21.
Gregoria rose in the second game and third game through a convincing game. Marin was beaten with a score of 21-15, 21-10 to advance to the final.
In the final game, Gregoria was really classy. His punches were so varied and deadly that it made Pusarla V. Sindhu not move.
This match, which was originally expected to be tough, actually seemed so easy for Gregoria to finish. The badminton player born in Wonogiri, Central Java was able to win through playing two games 21-8, 21-8 over Sindhu in 29 minutes.
(jal)